In my last update on friday afternoon this was mentioned
So till we dont break 19800-19750 on daily basis we can possibly see a bounce.
Sensex Technical View:
Sensex has made a low of 19769 and has since bounced back 500 points from the lows giving a scare to lot of traders. What is clear in the near term is we have had a lot of bottoms around the 19800 mark so till we stay above those levels a short to 20800-21000 is possible again and the range being maintained.
Currently one needs to be stock specific in this range.
One of the interesting things that happened last week was pure drama where on expiry day we saw a sharp drop and a 80 point premium on Nifty Futures followed by which we saw a dip next day to new lows for the last 2 weeks and a total recovery and a spike of 300 points today.
Just a fictional description would be Traders were forced to rollover their longs at a huge cost and next day markets cracked which hit lots of stoplosses clearing out the weak hands. Once the weak hands were out markets jumped 500 points in next 2 sessions !!
This same thing can be explained in different manners with different statistics favoring bulls or bears 🙂 but the simpler thing is 19750-19800 was a strong support and markets bounced from the same:)
Stocks to watchout for :
Jet Airways – A good candidate for a 50-100 point directional move on either side in next 3 weeks. Wait and watch closely for traders.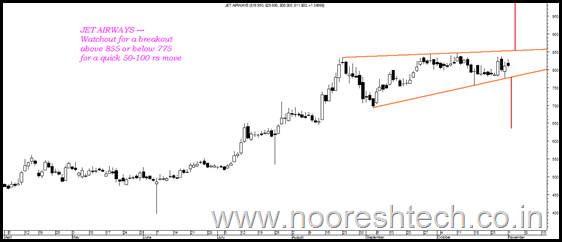 Eimco Elecon- The stock deserves a fundamental study so would invite readers to help me on the same:) Technically sustaining above 340 with volumes could take the stock to 450 levels.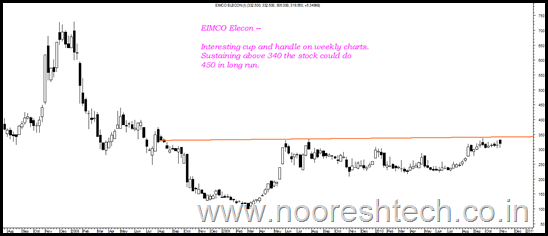 MTNL – ( Mera Telephone Nahi Lagta ) pun intended ) -
The stock has remained in a downtrend and weak for a long time but the current consolidation suggests there could be a possibility of a move to 80 levels in near term if stays abobve 71-72.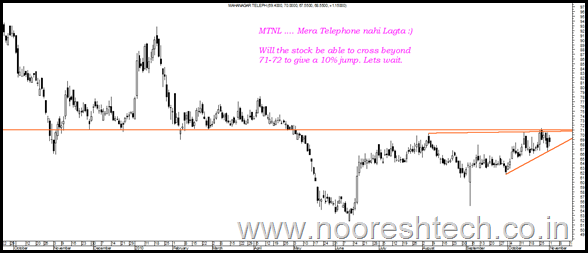 Tower Talk:
Sugar stocks the worst might be over and expect some favorable announcement in near term for the sector.
Telecom stocks like MTNL bharti and rcom look set for a quick 5-10% spike.
Piramal Healthcare came out with an announcement which was not favorable but could be a good buy below 470-475 till 450 as a special situation as well as long term.
TECHNICAL ANALYSIS TRAINING SESSION
MANGALORE NOVEMBER 13-14
AHMEDABAD NOVEMBER 20-21
Regards,
Nooresh