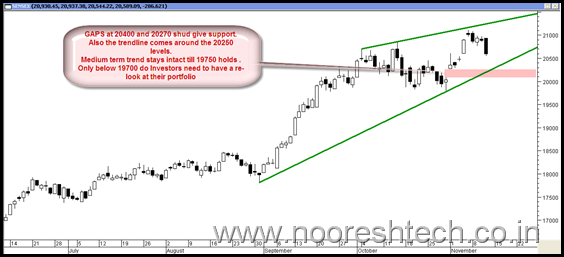 Sensex Technical View:
As suggested a few days back about a negative divergence seen in Sensex and we could see gap filling at lower levels Read entire post here -https://nooreshtech.co.in/2010/11/sensex-rsi-negative-divergence-time-for-midcapssmallcaps-to-catchup.html 
For now the 2 gaps have been filled. One would expect 20400/20270 to hold up in near term and a bounceback from the same.
Any correction nowadays does scare of investors as people have become used to daily upmoves. One needs to watch the risk management and leverage while trading. Till Sensex doesnt break 19750 there is no reason to be unduly worried.
One can even look for index longs with a stoploss of 20200.
Stocks to watchout for :
Reliance Inds is a good bet around 1060-1075
HPCL around 450/430.
IDFC at 193-195
TECHNICAL ANALYSIS TRAINING
MUMBAI November 13-14
Ahmedabad November 20-21
Regards,
Nooresh