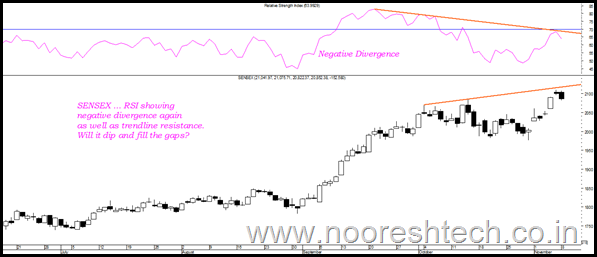 Sensex Technical View:
In the last 3 shots at new highs we have seen a declining RSI which is a negative divergence and is generally considered to be a weak signal but RSI is not the most reliable indicator.
On the flip side when index broke just below 19800 we saw a positive divergence. So its quite possible we may see a flip flop move in the rising channel. Till we dont break 19750 on downside the trend remains extremely positive.
There are quite a few gaps made in the last few days. But we can expect some support around 20540-20600 and 20270 in coming days.
BSE MIDCAP AND BSE SMALL CAP INDEX :
One of the major top out indicator has been the co-relation between smallcap/midcap indices with the Sensex.
Generally every major top is seen with an over performance in Smallcaps/Midcaps compared to Sensex. If one looks into Oct-Jan 2008 we saw a ranged move for Sensex but the Small Cap index went over the roof.
Over the next 2-3 quarters this is what investors should look out for as signs of over heating.
As of now Small Cap has only retraced 73% of the 2008-2009 fall and Midcap 80% whereas Sensex is almost close to Jan 2008 highs.
Even in short term we can expect the small cap and midcap stocks to be in favour whereas Sensex may remain under pressure. Focus on smallcaps/midcaps for the next couple of weeks:)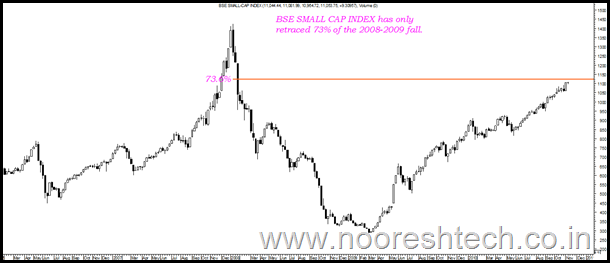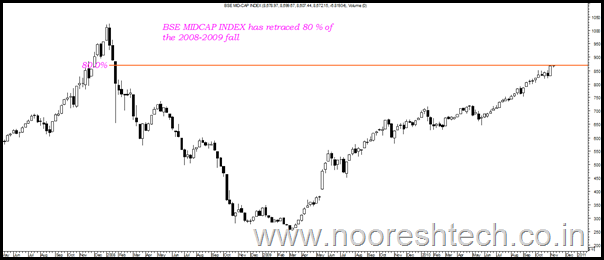 'TECHNICAL ANALYSIS TRAINING
Confirmed Schedule:
Mumbai  November 13-14 
Ahmedabad November 20-21
Training for Mangalore has been postponed
Registration:
Kazim 09821237002 or mail to analyseindia@gmail.com with your details.