Hi,
One of the stocks which i had discussed a few days back at 60.https://nooreshtech.co.in/wp-content/uploads/2010/10/LokeshMachines.png 
After the research on the stock i would like to cover into our Small Cap Coverage segment for a target of 100 in long term which is a good 50%.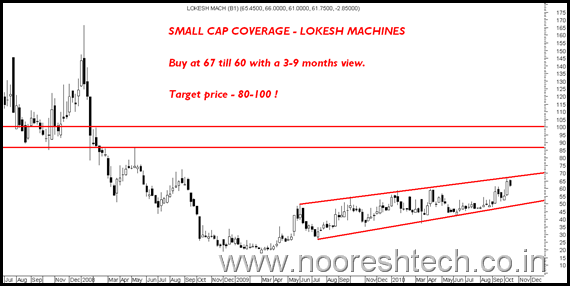 A strong investment pick for patient investors.Will try to post the fundamental view later in the weekend. Looks like the stock may move Autoline Inds.
Disclosure: Lokesh Machines has been recommended to our Delivery Gains clients !
By the way Apollo Hospitals has almost doubled from reco price  
     https://nooreshtech.co.in/2010/01/apollo-hospitals-long-term-pick-tgt-800.html 
Dhunseri Tea covered at 175-195 has given a breakout and should head to 250 in short term.
Regards,
Nooresh