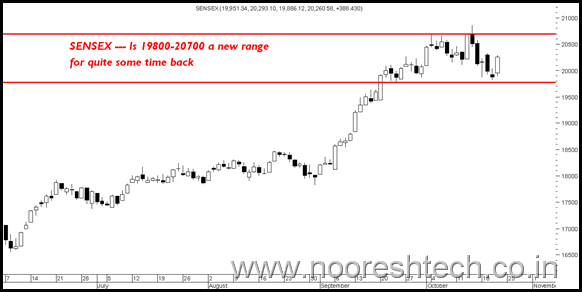 Sensex Technical View:
Last few bottoms can be seen around 19800-19850 which has not been broken. On the upside 20700 seems a resistance zone. So maybe index may get ranged with stock specific moves.
Some Quick Technical Charts :
CIPLA : Can the stock give a sustained breakout above 355 and head to 400. Will need to watch for a few days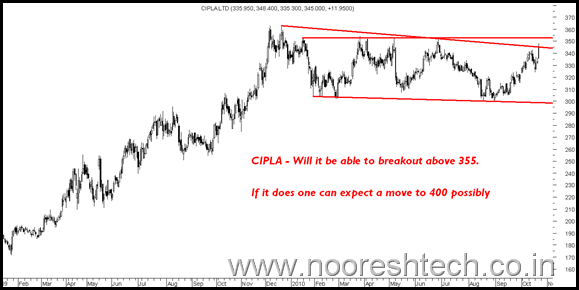 TATA CHEMICALS:
Above 440 one can take a quick trade in the stock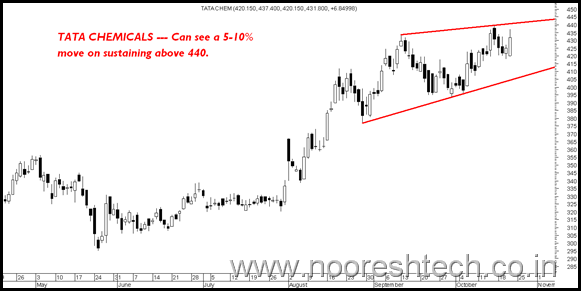 UNITED PHOSPHOROUS:
Finally after a few months of consolidation the stock has given a nice breakout. Expect a move to 212/225/250 in short term.
Recommended to clients today at 200.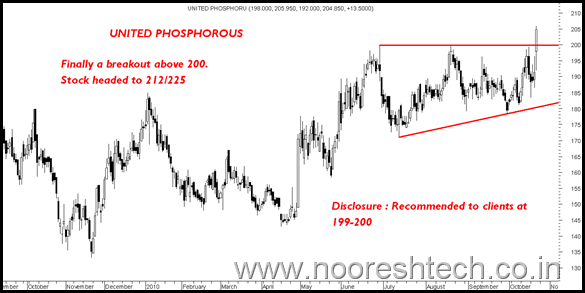 FAIRFIELD ATLAS:
Seems an interesting techno funda pick at current levels. Investors can keep a watch for a quick 20% move.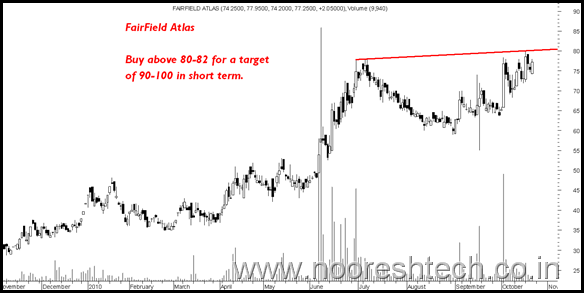 BASF :
A possible trading opportunity for 40 bucks.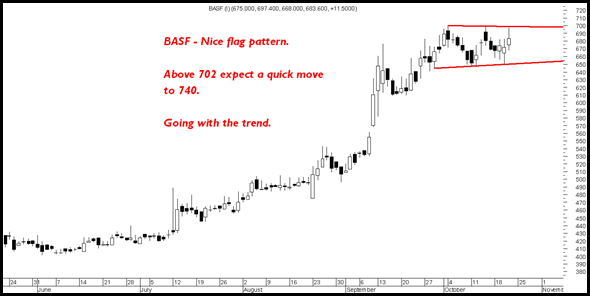 Some more stock talk and market buzz:
MTNL seems to be gathering a lot of punter attention. Buy the stock above 71 for a quick move.
JM Finance buzz of stake sale at 70 bucks. speculative buy at 43-41.
Midcap Banks like City Union Bank,Syndicate Bank, IDBI Bank  and some others which have not moved much may get into momentum soon it seems.
Amarjyothi Spinning Mills and Donear Inds look ripe for a quick 15% jump in textile segment.
Camson Bio and Fedders Lloyd deserve a fundamental check at current levels.
K S Oils looks interesting for a turnaround and the stock maybe headed to 60 + levels.
Market Buzz and Rumours - ( Dont consider it to be a buy or sell recommendation - It is just market voices and gut feel - Please do your own research ) 
Orchid might be a takeover candidate and could see a spike to 350.
Piramal Healthcase may
Guj Pipavav/Eros Media/Talwalkar from the newly listed segment may see explsosive moves in coming months. High risk traders can keep a watch.
Bedmutha after a superb run may go the thinksoft way on lower freeze.
Smart accumulation being heard in Bombay Dyeing which may turnout to be a multi-bagger.
EKC may soon come out with an announcement of a plant selloff.
Smart investors seem to be getting a liking for Mirc Electronics,Smart Link, Everest Inds, Greenply Inds,Monsanto.
Oil and Gas stocks like HPCL, BPCL,ONGC as well as Reliance Inds would be the next sector to watch for surprises.
Essar Oil may surprise with a big move in next 2-3 months with some positive developments.
High risk traders can buy RAMSARUP Inds with a target of 50% rise in next 3 months. High risk high returns
TECHNICAL ANALYSIS TRAINING SCHEDULE
After a break of sessions outside Mumbai we are back with a string of training programs to be conducted in your city.
MUMBAI – OCTOBER 23- 24 ( book seats at the earliest as limited batch size )
HYDERABAD – OCTOBER 30-31 ( few seats left)
MANGALORE – NOVEMBER 13-14
AHMEDABAD – NOVEMBER 20-21
For more details regarding group discounts or to organize a session in your city get in touch with our Technical Training Head – Kazim – 09821237002
Regards,
Nooresh