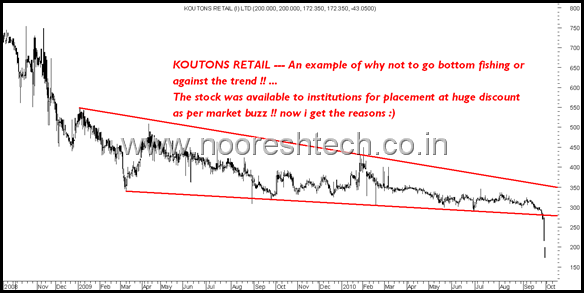 Koutons RETAIL :
Another set of example where its better to avoid stocks which are in a systemic downtrend  and not try to do a bottom fish.
Fundamental concerns have always been high with Retail Stocks. I would also be highly skeptical of companies like Kouton, Cantabil, Farmax as its a difficult business model to emulate like Pantaloons.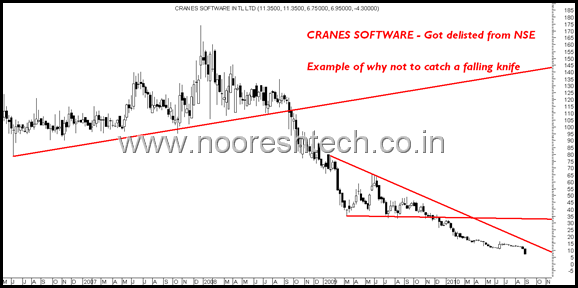 Cranes Software : Another stock which as just went one way down and got de-listed from NSE but still trades on BSE. The company looked pretty interesting on fundamentals but there was no signs of technical trend change anytime in last 1 year since i started looking into them. Good i gave it a miss 🙂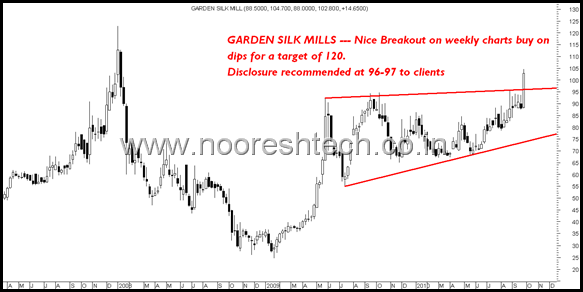 Well after two killing starts this is a good breakout stock which could head to 120. Garden Silk Mills.
Stocks to watchout for:
Atlas Copco , TRF look interesting stocks in the defensive category. Also one can have a look into Marico with a target of 20% annually for people who would like to have some defensive stocks.
Entegra Limited seems some speculative built up seen.
Also later in the week if i get time would like to post on the ADVERTISEMENT DUMPING STOCKS like Birla Power, Zenith Birla, Birla Cotsyn and some more in which suddenly company starts posting TV Ads as a useless expense of shareholder money.
End result the stocks drop 20-40% after a normal upmove where gullible investors end up buying at the top.
Cheers,
Nooresh