The last update i had made on Global Indices was a few weeks back on September 17 - https://nooreshtech.co.in/2010/09/global-indices-dow-jones-ftse-cac-dax-and-hang-seng-on-verge-of-breakouts-did-sensex-jump-the-gun.html
Since then Dow Jones has moved from 10500 to 11200 the target seen.
Hang Seng has moved from 21.8k to 23.8k giving a clean jump of 2000 points.
Also all the other Global Indices have given a considerably nice upmove.
But the current chart formation suggests we may see a big move in coming months the same way as i expect Sensex to do 22.5k after the current correction.
Although what needs to be seen is whether we see a minor correction in global indices before they start the next big move ! which could be secular.
Dow Jones:
In my major update on Dow Jones had mentioned about 11200-11300 being the 61.8% fibonacci retracement and the index should pause and top out around that zone.
Dow then corrected to 9600 levels with a butter finger etc.
https://nooreshtech.co.in/2010/04/dow-jones-should-pause-at-11200-crude-slipping-from-trendline-resistance.html
Currently the formation is more like a cup and handle which ideally gives a target of 13k also. But one could expect after crossing 11300 Dow should do a target of 12200 which is the next fibonacci retracement.
Although dips to 10700-10750 is possible before the next big move.
Will have a look on it when it crosses 11300 or comes down to test 10700.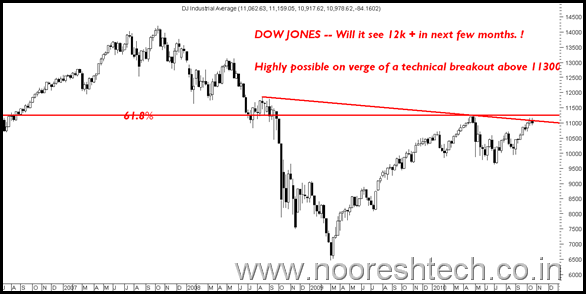 Hang Seng:
Before looking into the current scenario one can have a look into the previous chart which suggested a breakout at 21.8k
https://nooreshtech.co.in/wp-content/uploads/2010/09/HangSeng.png
Currently the index has crossed the year highs with ease which clearly suggests a test of 26500 over the next few month. A retest of the last high breakout around 23k is possible.
Yet again it looks like a cup and handle which gives a target of 27k.
Also here the next fibonacci retracement comes at 26k-26.5k.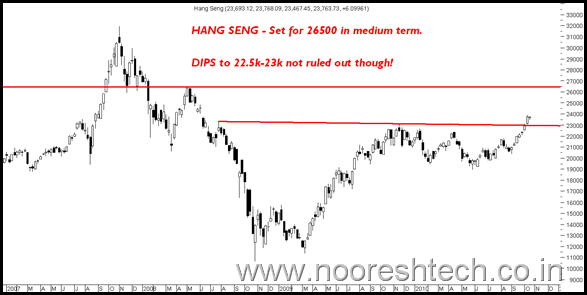 Bottomline:
All the things point to a possible major upmove in global indices namely - Hang seng, Sensex, Dow Jones which matter to us but the next few weeks could be tricky as ideally all of them need a little dip before they start the long journey which could be secular in nature.
We will review the indices as and when
Sensex comes closer to 19600/19000 or crosses 21000
Dow Jones comes closer to 10700 or crosses 11300
Hang Seng if comes near to 23000.
All in all its a time to look out for buying opportunities on major declines with a good risk-reward or wait for a confirmation of crossover above recent highs. Investors should continue to remain invested and ride !
There is one thing which can be definitely said is the next few months and year to come is going to be much more exciting with lots of trading and investing opportunities.
TECHNICAL ANALYSIS TRAINING SCHEDULE
After a break of sessions outside Mumbai we are back with a string of training programs to be conducted in your city.
MUMBAI – OCTOBER 23- 24 ( book seats at the earliest as limited batch size )
HYDERABAD – OCTOBER 30-31 ( few seats left)
MANGALORE – NOVEMBER 13-14
AHMEDABAD – NOVEMBER 20-21
For more details regarding group discounts or to organize a session in your city get in touch with our Technical Training Head – Kazim – 09821237002
Regards,
Nooresh
09819225396 ( only after market hours !)