Automobile Corporation of Goa:
Another excellent Auto Ancillary pick which was not discussed till now as it was a client recommendation ( Earlier one Autoline Inds 140 to 200 , Motherson 155 to 190 were given to clients in similar manner in Delivery Gains Scheme)
The stock gave a good breakout around 320 and is now consolidating. Stock should soon breakout above 400 to give a quick move to 450 where we would look to book half or more.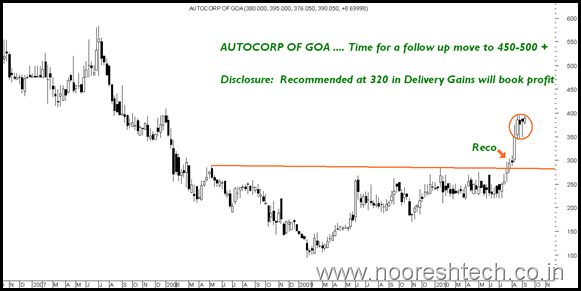 Videocon Inds:
The stock is making an excellent Cup and Handle Pattern on Weekly Charts.
Closing above 275-277 could take the stock to 350 levels in short to medium term.
Market Buzz suggests some demerger talk for many months - Will it Come ?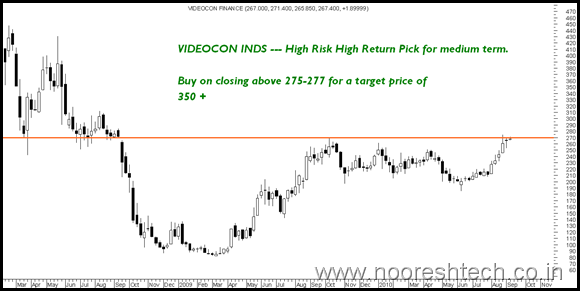 UTTAM GALWA STEELS:
Its almost been a year since Lakshmi Mittal took a stake in this co. Since then there has been no effect on the stock. Is it time for it to catch up ?
Technically a stronger upmove could come on closing above 142-145.
Well for us it was recommended at 122-125 levels in Delivery Gains product. Will keep booking profits on further moves maybe hold for larger tgts 🙂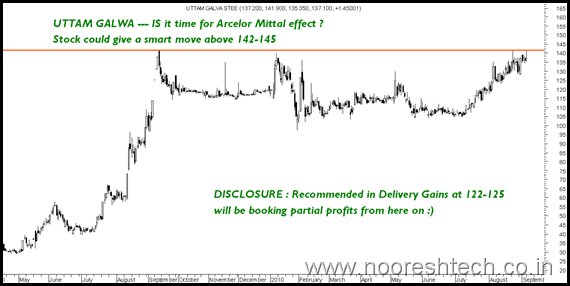 VALECHA ENGINEERS:
The stock has been consolidating for a long time in this tight range of 20 bucks.
Will it see quick move to 225 in near term. Possible on sustaining above 196-200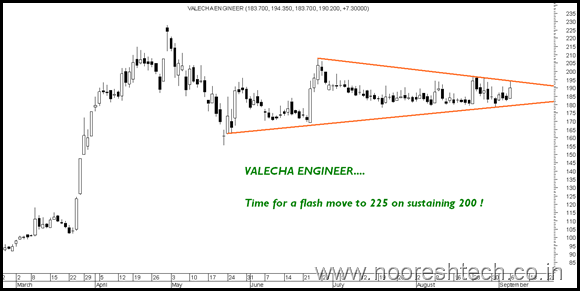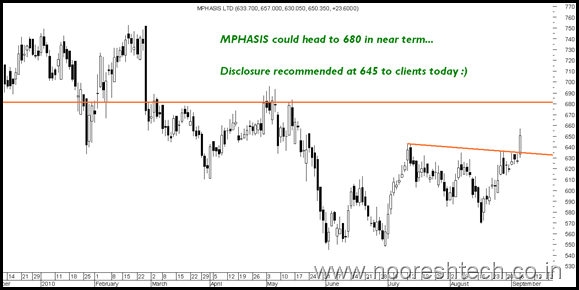 INDO RAMA SYNTHETICS :
Yet another Textile Stocks which seems to be firming up.
Multiple Tops suggest an explosive move to 50 + is possible
RANE BRAKE :
Yet again another Auto Ancilliary looking similar to Motherson technically ( Check chart in ppt)
Investors with patience can buy with a target of 15-25%. Fundamentally excellent as per a brief look.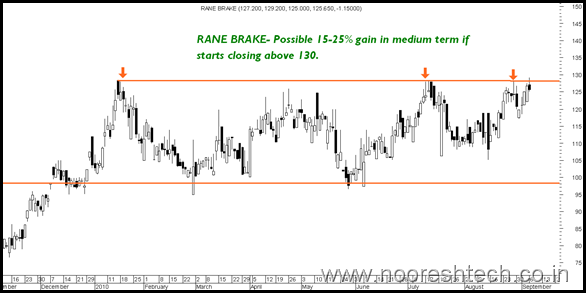 Cheers,
Nooresh                                                                  N S Fidai  09920120878
09819225396 ( After Market hours only)                      ( For Franchisee/Business Opportunities Alliances)
For any more info mail to analyseindia@gmail.com or call our Heads of Various Departments
Asif Poiserwala  09833666151 ( Do call him at the earliest for Advisory Services and get personalized service )
Kazim Lokhandwala 09821237002 ( Technical Analysis Trainings/ Broking - Book yourself for the next session to do analysis like what i have done above - Yes it can be done by all of us in simple manner)
Shams  09819919725 ( Intra Day Calls for Stocks/Nifty )