In all my previous observations on commodities one thing that has come out is it is more effective on Commodity Charts then equities 🙂 as the moves are clean and quick.
2 weeks back i had posted the following chart for Silver -
Technically it seems Silver has just given a possible medium term breakout and could target a nice 10-15% jump in coming few weeks. My tracking of commodities is only of academic nature but the chart below suggests a clean breakout.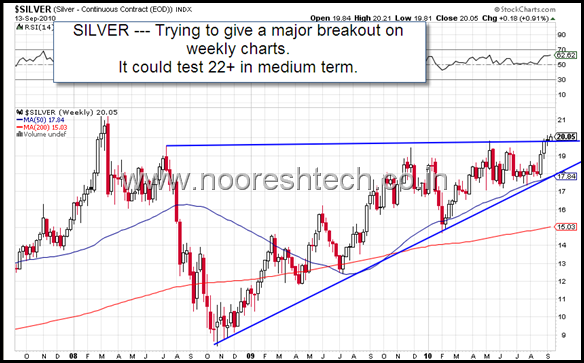 The price at that point was 20.05 and since then it has moved to 21.9 + in last 2 weeks. 10% move in Silver thats a killer trade !!!
See the chart below to see how Technical Analysis works equally well rather so superb in commodities too:)
Also lets have a look into the MCX chart.Though it saw a move of only 31500 to 33000 due to the Dollar- Rupee fluctuation.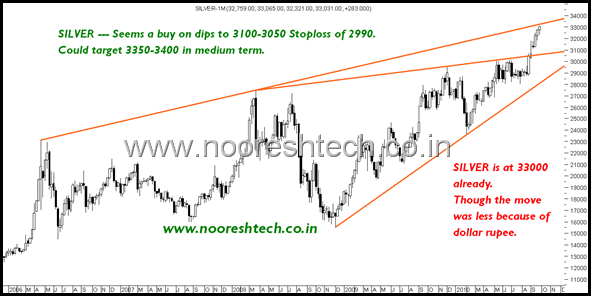 For an old view on commodities.
This is a good old article explaining how i gave a sell on Crude at 145 and then it dropped one way to 100 odd levels.
https://nooreshtech.co.in/2008/09/crude-analysis-147-to-106-technically.html 
Although i dont have time to check forex but students who do track forex also suggest technicals work the same there too.
TECHNICAL ANALYSIS TRAINING MUMBAI re-scheduled for OCTOBER 9-10.
BANGALORE - OCT 16-17
Cheers,
Nooresh