Sensex Technical View:
The strong move in Sensex as expected ( breakout was being discussed in our previous posts) has taken the index quickly to almost 19500 levels which is a move of almost 800-900 points above the breakout point of 18600-18700.
There is yet no signals of a turnaround but it seems that Sensex should now pause from the 19400-19600 band and consolidate or dip to lower levels.
Disclosure: Taken an anticipatory short at 5825-5840 levels with a stoploss of 5865 and booked part at 5785.
Also this could be a good hedge to the trading portfolio.
Nifty similar levels could be 5840-5875 as a pause level. High risk traders can short but keeping a strict stoploss.
Stocks to watchout for :
SIEMENS - Possible Sharp move above 740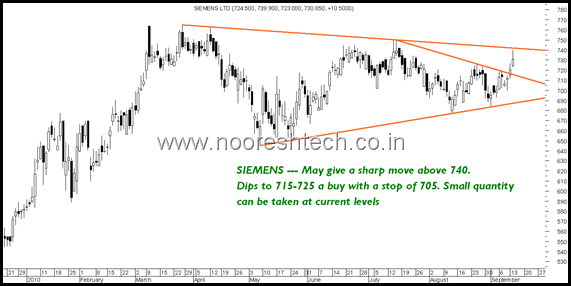 Can DLF be the leader in real estate stocks - Stock can give a sharp move on sustaining above 335-345 zone. High risk trade with a stop of 330 on closing basis. ( Keep strict stoploss as my history with timing Real estate stocks aint good - Have been avoiding the sector since March 2008 ) Check Chart - https://nooreshtech.co.in/wp-content/uploads/2010/09/DLF.png
Rane Brake and the whole Rane group of stocks - Seems value buying coming in.
HPCL and IOC hit new highs. Strong Momentum seen. It can go further.
BL Kashyap has given a breakout. Buy on dips till 400 stop 380 target 460 in medium term.
Ingersoll Rand seems an interesting defensive pick buy on dips for a 6-12 months target of 600.
GARDEN SILK Mills, Arvind Mills and Indo Rama Synthetics all in Textile space are forming long term breakout patterns. Wait for Volume Momentum to set in to add.
TECHNICAL ANALYSIS TRAINING SESSION – MUMBAI – SEPT 18-19
Book your seat at the earliest and become independent in your trading decisions. Call Kazim 09821237002 for more.
Also planning to conduct training sessions in Bangalore, Hyderabad, Gujrat – Please mail to analyseindia@gmail.com if interested