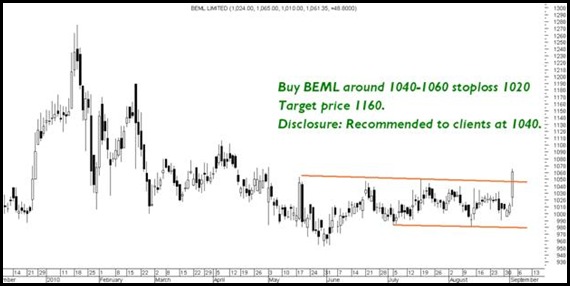 BEML:
Strong breakout seen above 1040 levels The stock should move upto 1160 in extreme short term. Buy with a stoploss of 1020.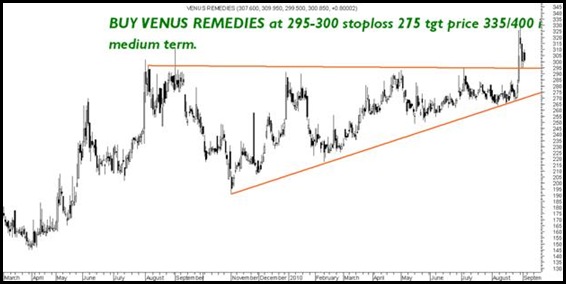 Venus Remedies:
Strong Breakout on weekly charts at 290 levels. Accumulate at 295-300 and on dips with a stoploss of 275. The stock should do a target of 335/400 in medium term.
TECHNICAL ANALYSIS TRAINING SESSION MUMBAI SEPT 4-5 and SEPT 11-12.
( ENROLL AT THE EARLIEST TO BECOME INDEPENDENT IN YOUR TRADING DECISIONS AND START ANALYZING LIKE US )
FOR MORE DETAILS GET IN TOUCH WITH KAZIM 09821237002 TO CONFIRM YOUR SEAT.
FREE SEMINAR in THANE by Nooresh from Analyse India
at Finance and Investment Exhibition.
Sept 4th Saturday
Time : 3.00 pm to 4.00 pm
Venue :
Kanti Visariya Hall,
Arya Krida Mandal Bldg,
Nr. Gaondevi Maidan, M.K.Road,
Naupada, Thane
The entry to the seminar is free and open to all. Also you will be able to meet the team of Analyse India who will help you out with your queries 🙂