In the last few months we have been selectively picking Auto Ancillary Stocks and shifting after making good gains. The last 3 good trades were Autoline Inds 140 to 180/200. Motherson 155 to 185 , Auto Corp Goa 320 to 390 the next pick we have come down to is Rico Auto which looks interesting with medium term outlook.
The stock should ideally target 40 levels in medium term.
Disclosure:
Recommended in Delivery Gains/QuickGains at 29/27 :). Intended purchase over.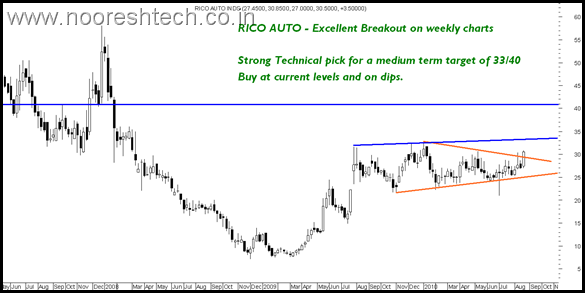 TECHNICAL ANALYSIS TRAINING SESSION MUMBAI scheduled for Sept 4-5. For more details get in touch with Kazim 09821237002 to confirm your seat.
NEW OFFERING : Please look into the document below to get our ADVISORY SERVICES AT ABSOLUTELY ZERO COST !!!
Will put a post on it soon..Click below to know the details.
Cheers,
Nooresh