Lincoln Pharma:
As always while scrolling through all the BSE listed company charts which i do daily i came across this stock which looks pretty interesting but have not got enough time to look into fundamentals.
But posting it early as technically the stock has given indications of breaking out on daily charts.Though the bias would be to look at it in my SMALL CAP COVERAGE SECTION as of now the fundamental analysis is not clear so i would request readers tracking the company or fundamental analysts to have a look and help me out 🙂 else it could take me quite some time.
Hope the stock does not move up quickly 🙂 before the study is over.
The Brief touch on the fundamental snapshot of the company.
Lincoln Pharma : 531633 – Cmp – 39.4
Market Cap : 44 crores
Book Value : 41
The stock is available at a market cap of 44 crores which looks interesting and is currently cum dividend of 1.2 rs which is like 3% dividend yield on the stock. Although the dividend payout has been same in the last 5 years which should have ideally increased.
So need to look more into the basis as on the first look seems very interesting with a medium term outlook.
Technical View:
One of the main reasons to write a post on the stock is that it has just given a breakout move at 40 and closing above the same for few sessions can take the stock to 48 in extreme short term.
Strong supports at 36 levels.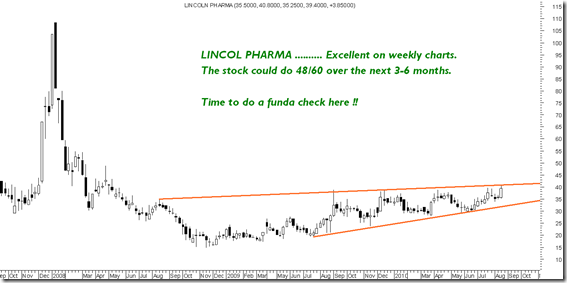 Bottomline :
Interesting stock – Small exposures can be taken at current levels and then add on to it once the research is over:) Hope to get few replies from readers. You can mail me on noorrock2002@gmail.com.
Cheers,
Nooresh