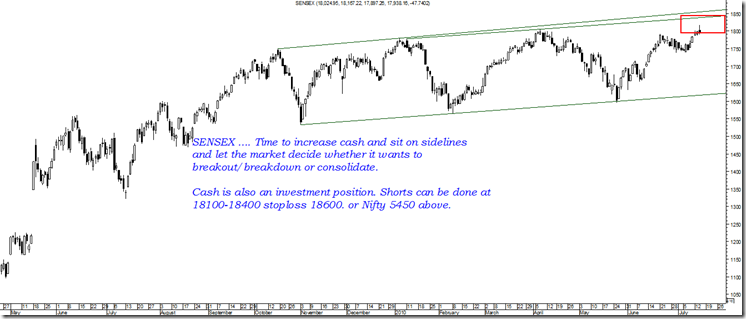 SENSEX TECHNICAL VIEW:
In the last 1 year everytime market hits a new high or new low the market consensus changes to bullish or bearish and the end result is a big trap for traders.
In simpler terms market has just fluctuated in a 2000-2500 points range with a little uptick on either side. Luckily for us we have been on the right side every time !!
For now the index is back towards the higher end of the channel which is not necessary to touch exactly so we need to take a rough range of 18100-18400 on Sensex. For near term the upside remains capped but there could possibly a good dip before market decides the next big direction
RSI indicator which i generally use on major top out zones is also showing negative divergence which indicates even if index has to cross 18500 it will need to first dip and gain strength.The indicators as of now are not in highly overbought zones so we could see some volatility in coming days
Technically the Index has taken four shots at the channel on upside and three on down. Generally as per my personal observation we rarely such a range remain for long and ideally in the next 6 mths to 1 year Index needs to breakout or breakdown to give a good 2000-2500 point trending move. But it would be too early to look into when and how so as of now its status quo – Buy on lower side of channel sell on upside. S
.
Bottomline: This is time to increase cash or at least fresh buying be strictly avoided.Traders can look to short but keep strict stops.
For all the people who have been following us may have already seen our view the last time we made lows but i would suggest u do have a look into the posts below to see how accurately has the market moved and we have been able to use it to our benefit.
Top at 18k
Sensex at 18k --- Advised to increase Cash – Index then turned around to hit 15900 !
Last 3 bottoms
1) Video Analysis posted at 15300 Bottom
2) Detailed Technical View posted about 15500 zone to hold.
3) Time to be Optimistic at Sensex 16k mentioning how 15900 is important.
Being able to analyse similarly is pretty simple and it would take only one weekend of yours 🙂 – The next weekend to independence is on July 17-18 Mumbai