One of the major problems in the Advisory Services for Stock Markets is that the internet is filled with innumerous Advisory Portals claiming 100% accuracy and lots of false promises.
The no of genuine advisors with credibility and experience would be minimal.
In the past also we have faced the issue of our advisory trades being copied/blog content being used blatantly.
Many a times we have had advisors copying our newsletters/trading calls as well as there have been instances some of them actually subscribing us in a friends name for their personal trades!
I have been blogging for the last 4 years regularly and providing advisory services before that but always we tried to not write anything about the instances as that would not be uncharacteristic of us to be negative on someone.
Recently one of the sites www.orangerich.in using the name Orange Financials was brought to our notice by few of our readers/clients. The site has been copying our trading calls exactly. Earlier i thought it could be a co-incidence but it seems all the research they have been doing is copying!
I would let the following mails and our message timings let you know how its been done.
I am pasting my trading calls given and followed by that images of the mails spammed by Orange Financials
1) Our investment call on City Union Bank – ( Now this becomes open to all blog readers:)
| | | |
| --- | --- | --- |
| 30-06-2010 10:18 | AnalyseI | Medium term holds - KEI Inds, United Phosphorous,Camlin,Easun Reyrolle,Lakshmi Vilas Bank. City Union Bank buy on dips to 34-34.5 or on closing above 37 with medium term view. |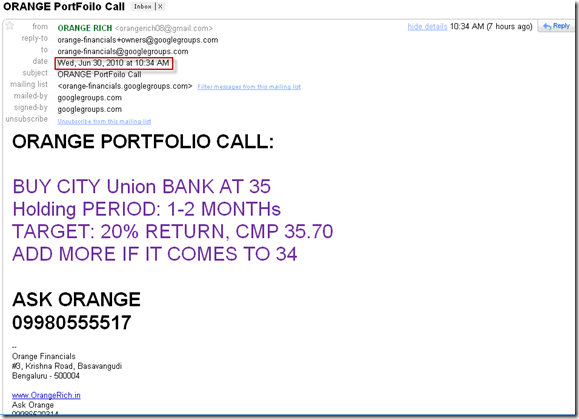 2) Short term call on Andrew Yule
| | | |
| --- | --- | --- |
| 30-06-2010 13:39 | AnalyseI | Buy Andrew Yule at 36-37.5 stoploss tgt tgt 44 in short term. |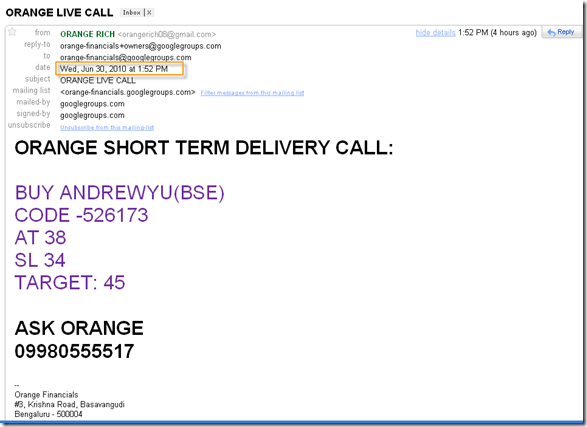 3) Short term delivery call on Astra Micro ( This call has also been given to our Delivery Gains clients at 60-61 itself)
| | | |
| --- | --- | --- |
| 30-06-2010 14:31 | AnalyseI | Buy Astra Micro around 63-64.5 add on dips to 60 stoploss 58.5 tgt 70-75. |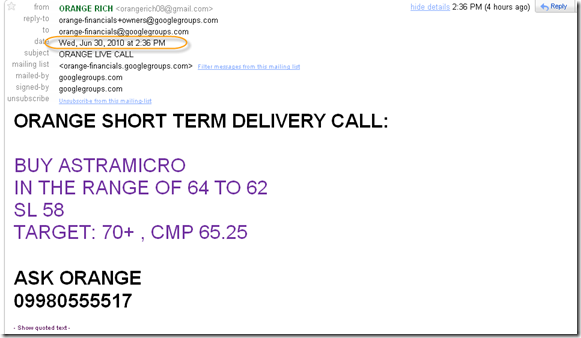 Also as per the readers who have informed me say the Track Record posted on the site www.orangerich.in is full of our calls and in that too ones we got a stoploss hit have been considered to be target hit!!!
Clearly shows the state of advisors in the current market – So i would suggest please take care before taking unsolicited advice.
To the www.orangerich.in – GET WELL SOON 🙂 – Readers can wish them the same 🙂
I dont know how many other advisors are copying our trades so would advise our loyal old clients and new ones to keep the trading advise to themselves and maintain integrity the same way we do in our services.
Regards,
Nooresh