GTL infra has been in the news for this weekend after an agreement on deal with Rcom. More can be read about it online.
Technically the stock gave its indication of a move around last week only by giving a breakout above 44.5.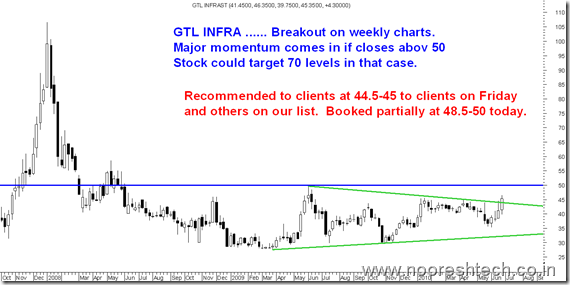 Technical View:
On weekly charts the stock gave a breakout around 44.5.Good accumulation was seen around 38-44 zone. Weekly closing above 50 should take the stock to 70 levels. Stoploss at 42 now.
Messages sent to clients:
22nd Newsletter:
GTL INFRA - CMP 40.50
ACCUMULATE ON DECLINES UPTO 39 WITH STRICT STOPLOSS PLACED AT 38. PATIENT INVESTORS MAY BOOK PARTIAL PROFITS AROUND 45 AS IT IS A STRONG RESISTANCE ZONE. ONCE ABOVE 47 STOCK WILL MOVE INTO STRONG MOMENTUM BUYERS CONTROL AND SHOOT TO 58 & 67 IN MEDIUM TERM.
Message on 25/06/2010
Buy GTL Infra at 44-45 add on dips to 41-42 stoploss 40 tgt 50-55 in medium term.
GTL infra earlier recommended in newsletter could give a strong move sustained closing above 46 for a target price of 60 for investors. Accumulate at current levels and keep position to add on dips.
Partially booked today at 48.5-50 levels will look to add around 45 if comes or hold on to the position. Although market might have had a buzz of the news in last week but the crossover above 44.5 gave a clear indication for possible news in the offing.We got a good 10% pop 🙂 to reduce average cost.
For more such calls look into our advisory plans https://nooreshtech.co.in/services 
Discount of 15% till 30 June ! – For more call Asif Poiserwala 09833666151
Regards,
Nooresh