In the last few months this has been the consistent question which i have been asked innumerable times through various mails, chats, calls etc.
The last i gave a trade was at 300 which we got only a move to 320 and exitted at 310 because of no follow up buying seen. But in the last few weeks i have consistently maintained to avoid and i dont see anything interesting in Bharti as of now.
Lets look into the technical picture
Bharti Airtel Daily Chart:
Although it seems the stock has given a breakdown in extreme short term the bigger concern is the large volumes with every drop in the stock.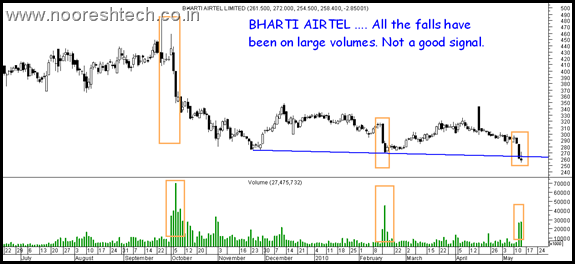 Bharti Airtel Monthly Chart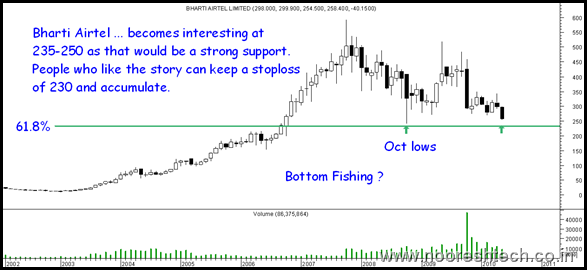 The only interesting part here is the 61.8% retracement of the entire rally from 2003 to 2008 comes to 230-240 and the October lows come to 241. Although i am not a major believer of the telecom story but if people do want to take an exposure then 230 could be a good stop loss.
Buying zone could be in parts from current levels to 240. The assumption here is the stock would not break supports of 230 which if broken god knows where the stock can go.
Bounce targets should be 290-320.
Investors are advised to do adequate research before taking an exposure. This is not a buy or sell recommendation on the stock but just a view.