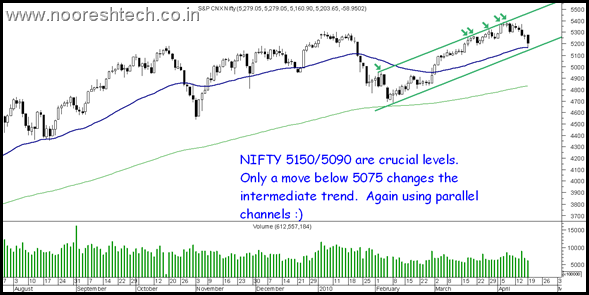 Nifty Technical View :
Although i generally prefer to give a view on Sensex which i have been more accurate but its just that people want me to write on Nifty more so will make an attempt for the next few days.
Nifty took support exactly around the 50 dema which came around 5165. Technically 5150-5160 and 5090 are the important supports.
Also a parallel channel support can be seen around 5150. Parallel channels are generally more precise with a little longer time frame. Have earlier used it to spot LAST THREE IMPORTANT BOTTOMS.
Only a move below 5075 would change the intermediate trend.
Now for Sensex just pasting from yesterday. Technically Sensex should see a bounce from either 17300/17000 support levels.The intermediate trend remains positive till 16900 holds.
Stock Specific Chart :
Modison Metals :
Looks interesting for short term with increase in volumes.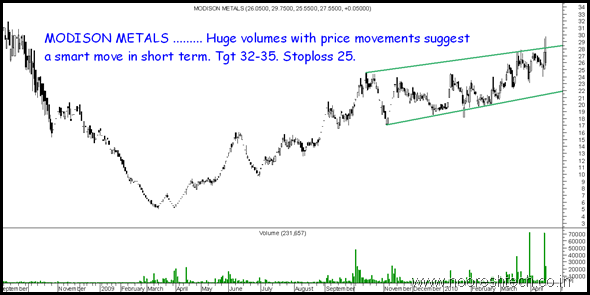 Unusual Behavior in Indian Stock Markets:
As a daily ritual i check all the listed stocks by the eye 🙂 without using any automated filters i do notice weird moves in the stock exchanges but never had the time to put it but will do so from now on. The last few observations of circular trading was before SEBI realized it 😛
SEBI busts Stock Manipulating Network — After our article on Jaybharat Textiles/Ushdev
Just noticed a stock which has been on ckts ever since the last 15-20 mths. From 100 the stock is quoting at 6000 🙂
Check the chart below and enjoy earlier name was Duroflex Engg now it is Veritas India . But dont even think of buying or selling 🙂 Just observe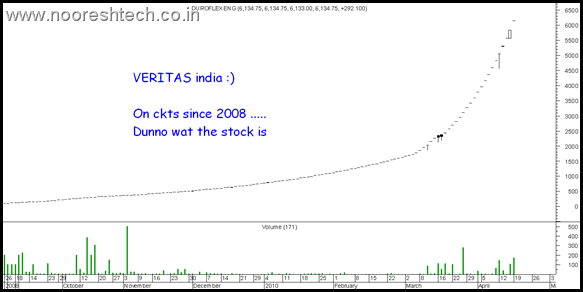 Keep passing the link of this blog to your friends if you like the stuff posted here. Also people wanting it on mail can subscribe it by the top left box.