Dow Jones Technical View :
Few days back had posted an article that Dow Jones should take a pause around 11200-11300.The article-   Dow Jones should pause at 11200 ? Crude slipping from trendline resistance
. Dow Jones has since corrected 200-250 points from the highs. ( Simple Technical Analysis works everywhere )
61.8 % of the total fall in 2008-2009 comes to around 11200-11300 for Dow Jones so a pause from that levels is logical and needed. In the short term 10750 which is near the previous top and 50 dema becomes an important support to watch for. Click on chart below to enlarge.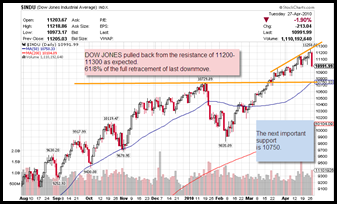 Sensex Technical View :
In the last few days i had been mentioning the level of 17800/17950 to be resistances in the short term. Index continues to face resistance in the zone. With the possible down move today support of 17400 needs to be watched out for.
Also the current formation could be developing into a flag also. In that case a move to 17000 could be a risk-reward buying opportunity provided it comes else till we dont break the flag on upside no major index trade.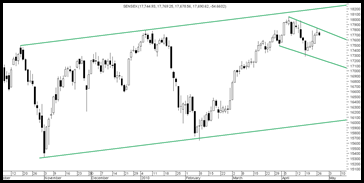 Stocks to watchout for :
Bajaj Auto sell below 2010 stop 2027 tgt 1940
GVK power can give a sharp move above 47.5
Colgate buy around 740-745 stop 720 with a positional view and tgt 800
Reliance Inds strong support around 1000-1020 mark. Speculative longs can be built up with a stoploss of 960.
TCS sell below 776 stop of 786 tgt 755-745.
GE shipping , Mercator Lines and SCI in the shipping sector are making interesting technical patterns suggesting lots of accumulation and a good breakout possibility in the next 1-2 mths. Investors can keep a watch.