The after-effects of the super upmove in midcaps/smallcaps in 2007 and a subsequent crash in 2008/2009 can still be seen in the investor sentiment. Any 20% move in small cap scares of people that are we in for a topping out ??
But the data seems to say different things.
Sensex - Down 16-17% from the peak of 21206 in January 2007.
BSE Midcap Index -  Down 30% from the peak of January 2007.
BSE small cap Index – Down 35% from the peak of January 2007.
It is said that a market turns into euphoria once the midcap/small cap index starts over-performing with a stalling Sensex move. Till we dont see this difference of 30-35% narrow down to a small margin the basic criteria for a Euphoria cannot be justified. Does this mean we still have more to come in form of a Small Cap/Mid Cap rally in the months to come – Maybe YES – the data says so
.
Bottomline be selective and do research. There are still lot of stocks in the broader market available at attractive prices provided you do the homework and have patience.
If you would like to spot attractive midcaps/smallcaps with a conservative view do look into our Delivery Gains plan – Check past performance here.
Sensex Technical View :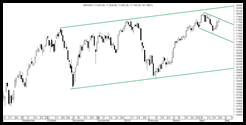 The index needs to give a sustained move above 17850-17950 resistance to again take a shot at the upper end of the channel.
For now 17550-17600 and 17850-17950 seems to be a tighter range. Selective up moves in the broader segment would continue.
For Nifty the same range comes to 5345-5360 to 5350-5375 band.
Stocks to watchout for :
PERSISTENT SYSTEMS
The stock seems to be catching a fancy of shrewd investors. Fundamentally looks interesting provided one is patient. For a little detail check my earlier post on Persistent
ABG infralogistics has given a breakout around 235-240 levels. The stock could touch 270 in extreme short term. Watch for dips to buy with 3-4% stoploss.
Mid cap Banking stocks look interesting – Dena Bank , Vijaya Bank and IDBI. Traders can keep a watch.
Few days back had asked readers to do a brief research on Sharon Bio. But as usual people are more interested in spoon-feeding
nobody commented on it. Stock has since moved 15 % . Still would wait :). Another one discussed AVT natural should do good now it seems. In the same post had discussed DCB which zoomed to 44.
NIIT TECH :
The stock is about to give a small breakout – Could head to 200 in extreme short term.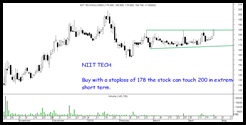 Revathi equipments is giving indications of a breakout. Sustained closing above 720-730 could see the stock head to 900. Good stock for defensive investors.
XL Tele once was spoken of to be a multi-bagger at 500 levels in the bull market is now available at 40s. Bottom fishers can buy for spikes in near term. Hyderabadi promoters may soon play their tricks
SMS Pump and Dump continues:
Some time back i had explained how SMS had become a new way to Pump and Dump stocks to foolish investors by market-makers -  SMS — New way to pump and dump stocks by market-makers !!
Yet again the same thing continues. Recent messages on FCS Software, Kosian Inds and Biopac. Please take care as these stocks could see a vertical down move. Take care !