Sensex Technical View:
Sensex 17680 and 17450 are important supports for the near term. Till we dont see a sustained move below these levels the broader markets could continue with the current momentum.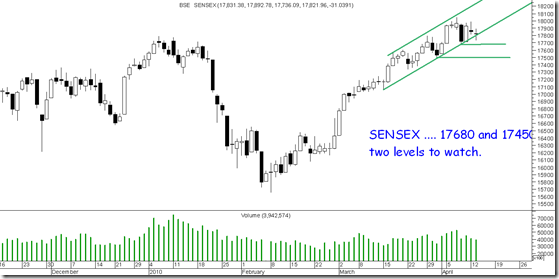 Stocks to watchout for :
Small Banking stocks are making nice pattern on charts – Watchout for DCB, Bank of Maharashtra look good.
Few pharma stocks like Amar Remedies and Vivimed Labs. Traders can keep a watch.
Few more stocks which are closing in on breakout. Not much time to make charts. Also please do your research and adequate risk management as right now one should be strict with stoplosses. Momentum is never permanent !! Discipline should be !!
KEI INDS --  Need to see volume support for price move
Kemrock Inds --- If it stays above 490 the stock can do a quick move to 550
Vivimed Labs – Above 160 the stock can give a sharp move
Ruchi Infra – Above 60
Two Interesting Stocks which i would like to research on and maybe if some body could help me out.
SHARON BIO:
Dunno whether its actually a bio story or not.
AVT Natural Products –
Interesting business in food ingredients. What looks more interesting is the rise in volumes.
People who can do a bit of research please put in their comments.