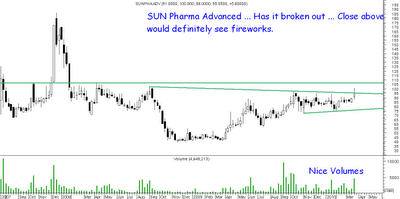 SUN PHARMA ADVANCED RESEARCH !!
Although fundamentally on books it may seem a 1000 p/e stock but if out of the few formulations becomes a hit the stock can see huge payments !... Thats the high risk and high reward part of it and its one of the few pure RND plays available.
Personally was a favorite almost 6 mths back but exitted out of patience at nominal gains.
Technically the stock is trying to give a breakout and the first signal has come. Buy around 93-95 stop of 89 tgt 105-110. Sustained closing above 105 could give a major move to the stock.
CHENNAI SEMINAR ---- Please register on the link below
https://analyseindia.com/form2.htm
Pass the invite to others who are interested in stock markets.
Also TECHNICAL ANALYSIS TRAINING SESSION IN CHENNAI on March 27-28 .....Call to know more
Best Regards,
Nooresh 09819225396