Mr Pranab Mukherjee the finance minister did come out with a budget which i am definitely not the best guy to comment on. But all I see is good tax savings for the salaried and good service tax savings for professionals like us 🙂
Above all the markets welcomed the budget with a good up move.
Certain stocks to watchout for :
Amtek Auto :
The stock gave a nice breakout yesterday. Buy on current levels and on dips with a stoploss of 175 and a target price 204/225 with a medium term view.
Disclosure : Already recommended at 185/175 to clients.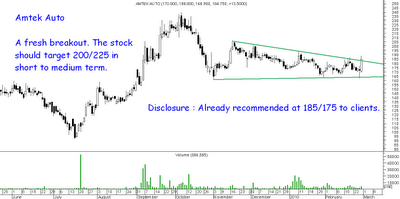 Apollo Hospitals :
Already recommended before at 600-650 levels with a long term view.
A fresh triangle formation which can give a breakout above 720. Add if breaks out.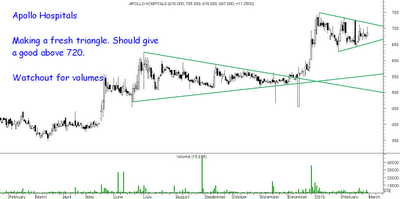 Sensex Technical View :
In the last few days i have consistently mentioned that index would not break below 15500-15800 in worst case.
On the upside 16700-17000 are target zone where one should look to book profits and reduce exposure at that zone.