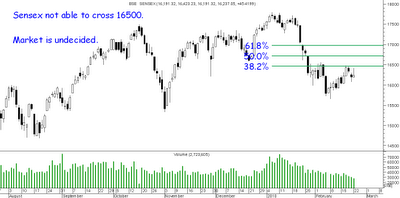 SENSEX TECHNICAL VIEW :
There are too many opinions on the market varying from 12k to 18k which seems too huge a range !!! Well thats the problem with opinions because nobody likes to say i dont know !! 🙂
Well for now the current moves over the last few days have given no clean signals of a change of trend or continuation of the uptrend.
Simpler analysis is 15300-156000 should hold if that breaks then only can we look deeper and might actually look to exit if that happens. ( Personal opinion remains that 15500 would hold )
On the upside a move above 17k is positive. 16500-16700 remains the retracement band.
Stock Specific also we are not seeing any positive moves but a slow decline coz of indecision in the market.
Sometimes its better to just watchout then to trade. I would wait for the next week for clarity as budget and other external things to pass.
Regards,
Nooresh
09819225396