Sunday Thoughts :
This section has not been updated for quite so long !!! So maybe a very small update here.
Right now index has done nothing but money making has got a little easier for speculators also !! which may not be a great sign but such a period does last for a couple of months and a little washout cleans them again.
Right now we might be on the start of the speculative rally but irrespective of what comes be it huge move or huge fall !!! Disciplined trading and investing style makes consistent money.
Learn more , Research more and be quick to implement !!! Else you may end up making the same mistakes..... Above all take some money home out of the profits -- Enjoy the money made !!
Till you dont take the money out of the market its always tied by human infallacies !! and unsafe .... Many people who are following the blog may actually be much beyond their 2007-2008 portfolio highs so its high time u start taking some money out may it be even 50k out of a 10 lakh portfolio.
Check the trades given below.
GE shipping
Mahindra Life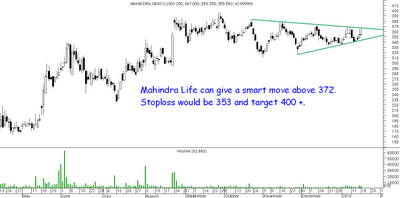 Technical Analysis Training Schedule :
Mumbai

---- >

January 23rd - 24 th 2010. ( few seats Left )
Delhi

--- >

February 6-7 th ( few seats left )
We have a few interested people in Delhi,Coimbatore,Hyderabad. So if people would like a session in their city please mail to analyseindia@gmail.com
Regards,
Nooresh
09819225396
noorrock2002@gmail.com