Ever since 16600 we have been consistently been giving buy recommendations and also advised leverage to clients maintaining the view for 17700/18500 levels... Also spotted the lows exactly in Sensex and Bank Nifty /Nifty !!!
We have touched 17700 and re-iterate that we can go till 18500-18900 in this month. The strategy is simple !!
We bought in dips to 16600 then went leveraged till 17.1k and are now slowly reducing leverage by booking profits and trailing for 18500 !! .... On stock specific terms it means using a move of 20-50% in leverage means optimized returns !!
www.analyseindia.com
Check the chart given below for detailed view. ( red colour is latest update )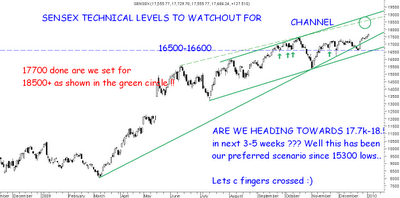 Power of Technicals -------------
Three ways to get it :
1) Learn from us !! -- 2 day technical analysis course ( Start being independent from next day )
2) Advise from us ! --- Advisory Services
3) Let us manage and create wealth for YOU
For more details check www.analyseindia.com
Regards,
Nooresh