Sensex seems to be taking support around the range of 16500-16600. The view remains as before the trend remains very positive till 16200 holds up on weekly closing basis.
If Index holds up above these levels for the next 2 weeks a move to 17.5k again cannot be ruled out.
But its time to be stock specific till we dont see a clear picture in coming days.
Stock Specific Technical View :
After quite some time a technical view on large cap stocks - The leaders SBI and Reliance which i expect could lead any upmove or downmove from here.
The charts would clear out the view.
SENSEX the next MULTIBAGGER .... a technical view ....
Planning for a Banglore edition on January 9. Would like to know if people would be interested. If yes please send in a mail to analyseindia@gmail.com. The seminar is open to all 🙂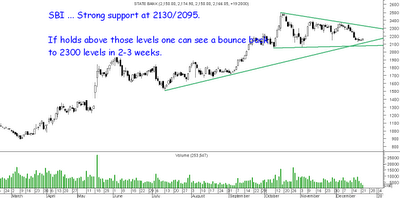 SBI :
Multiple bottoms in the zone of 2060-2120.
Trendline support comes closer to 2095 zone. Holding these levels could give a smart bounce.
Only a break below 2060 would weaken the current trend. :
Trendline support in the zone of 990-980. Holding on to this would signify strength.
Only a move below 960 on closing basis would lead to weakness.
Another high risk high return stock for next 2-4 mths. Earlier discussed many times. For the record advised to clients at 39/32 with long term view but small exposure.
Seems a fresh breakout could happen over 46 to take it higher.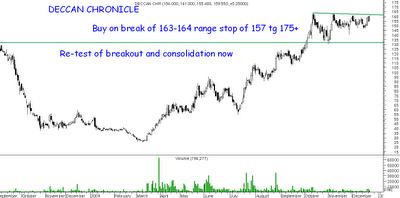 Good for short term on breakout... Traders keep a watch.
TECHNICAL ANALYSIS TRAINING SESSION SCHEDULE:
26th /27th December ( only 5 seats left )
2nd/3rd January.
January 9-10th . ( Confirm at the earliest as we dont take more then 10 ppl )