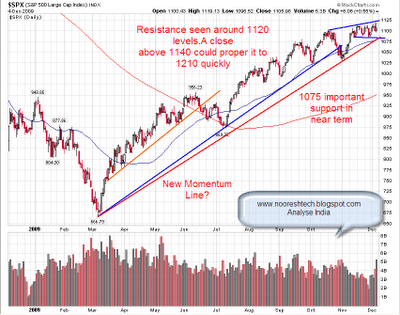 S&P500:
The chart is descriptive enough i suppose 🙂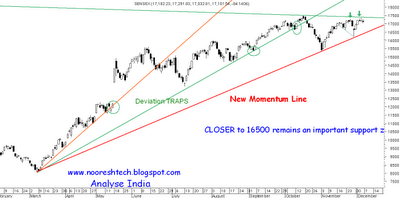 Sensex Technical View :
Before we get into the detailed analysis readers should have into the last updates at 15300 and 16300 the lows made recently which we rightly timed and readers benefitted from the same.
PDF on why 15300-15500 should hold - Click here to download
Check the video update by clicking here.
For the update at 16300 click here.
Current View:
As we see there is lot of resistance arnd 17200-17300 which is obvious as index has bounced back swiftly from 16200 to 17200 in 3-5 sessions. On the downside we seem to have formed a new momentum line ( had discussed abt this in the video). The momentum line comes closer to 16500.
Strong support for near term remains at 16500. In the last so many months we have seen a shift in momentum lines and a little dip below the same to trap the shorts. ( Click to link in the earlier Post ). So in the next couple of weeks it needs to be seen whether we test the line or continue the march up.
An upmove to 17700/18500 remains a good possibility over the next 3-5 weeks. On the downside we would continue to watch the 16500 zone. Although as being mentioned continously since last 3 weeks FOCUS on MIDCAPS ! ( Link to the post ) . As discussed since Nov 3rd week an expectation is the flurry of midcap reports to start from brokerages,research houses.
Stocks to watchout for :
Was busy for the last two days in an exhibition so no updates here today. Client calls will continue 🙂
Best Regards,
Nooresh
Analyse India
noorrock2002@gmail.com ( personal mails )
analyseindia@gmail.com ( any service details)
09819225396 ( aftr mkt hours )