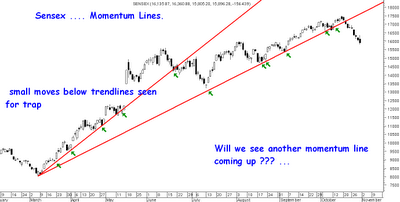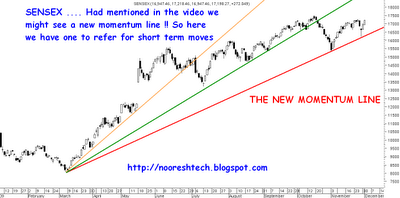 Just for the record yet another BEFORE AFTER CHART
Sensex Technical View :
In the near term 16900 and 17300 on upside would decide the next move in near term. Although significant resistances and supports are on a wider range.
Its time to be stock specific.
Stocks to watchout for :
VALUE PICKS -
The following stocks have holdings in other companies to the extent of 1.5-2.5 times the current mkt cap
CHI investments
Maharashtra Scooters ( discussed earlier )
JK Agri Genetics ( discussed earlier )
Limited downside but could give a return of 20-25% over the next 3-6 mths.
Bank of India if closes above 400 or trades for some time expect a quick move to 425-400 in near term.
IDEA , Bharti Tele and RCOM are showing positive divergences on charts. High risk traders can buy on every decline with a stop of recent low and expect a 10 % bounce in next 3 weeks.
Day call buy Sterlite at 885-890 with a stop of 878 tgt 905-917.
LONG TERM SAFE PICKS :
Balkrishna Inds
KCP Ltd
Investors looking for long term slow gains should look to buy the above stocks at current levels. The above two stocks can give stability to the portfolio as well.
For updates on sms put in your phone nos