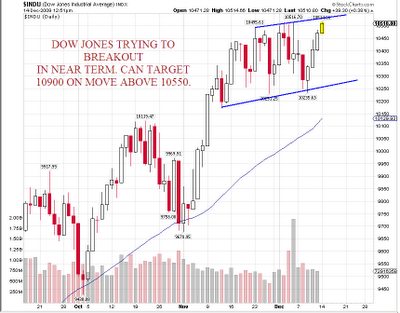 DOW JONES :
The index seems to be setting up for a breakout move above 10550 which could target 10900 in extreme short term. The pullback from the lows has been quick so it may take a few sessions before it sets up higher.
Unless it breaks 10200 we can expect the strong bull move to continue.
Sensex Technical View :
In technical analysis the first rule is to not make QUICK CONCLUSIONS. Although the index has been fighting around 17300 levels and failed to break it in last 2-3 attempts it would be too early to call it a double triple top.
The range continues to be 16700-17400 in near term but next 2 weeks one would expect the indices to finally decide and breakout for a move. End of december or by 1st week of Jan we would see some decisive move. Till 16500-16700 holds i would bet with the uptrend on and possible target to 17700/18500.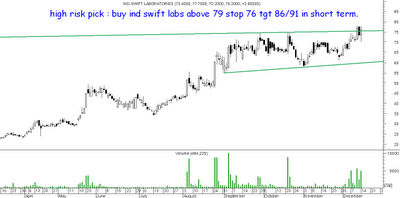 High risk pick: buy Ind swift labs at 79 stop 76 tgt 86/91.
SMALL CAP COVERAGE :
Last month had initiated a view on Accentia Technology as an interesting bet and for a change my fundamental view got right in time and the stock has given a good 30% move but the view remains same on the long term prospects.
SURYA PHARMA :
Highlights :
-> The stock shows an eps of 35-40 which implies at current market price the stock is quoting at a p/e of less then 4 which is real low for the sector the stock is in.
-> With a book value of 159 and a huge expanse the market cap of 190 crs looks too less.
- > Subsidiary companies have plans from Education,Power,Healthcare and Pharma which is a lot of business verticals.
-> A college, medical stores around India, power projects and infra are the areas which subsidiary cos are working on whereas the core pharma business looks ok.
- > Major concerns are a debt of 2:1 which is huge. So its a high risk bet.
- > Technically good support at 127/110. On the upside stock could see 175 in next 1-3 mths. A major bull move could happen only on crossover above 180.
If things go right the stock an be a multibagger in 6 mths to 2 years. Risk remains coz of debt and ambitious plans but worth a detailed research !!!
Hope to see more views on this analysis.The above analysis might be short-sighted not well-researched plz do your own research. This is just an attempt to fundamentally analyse which i m not as comfortable as with technicals 🙂
Technical Analysis Training sessions and tentative schedule. ( if we get more/less entries as per centre the schedule might change so book your seats asap )
Mumbai
26th /27th December ( only 5 seats left )
2nd/3rd January.
Hyderabad / Banglore
Jan 2nd week and Jan 3rd week. ( Confirm at the earliest )
Sensex the next Multibagger.... a technical view which is scheduled for 20 Dec 2009.