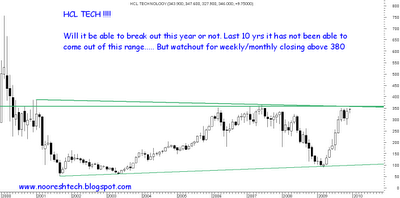 Monthly Range !!!
Huge range of roughly 100-400 in last 6-9 years . Will it breakout in 2010 ??. Lets c how it goes from here. Will be on our radar in coming months.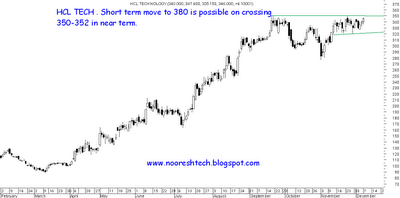 Short term charts suggest a move to 380 if its able to cross 352.
Continue to focus on midcaps / small caps for the next few weeks.
Gitanjali gems is being talked of in the markets to give a surprise 15 % move any time. Traders can keep a watch.
Tinplate, Suryachakra Power , Nucleus Software, Easun Reyrolle look interesting for next 3-6 weeks. Not much time to detail about the same but soon more updates on midcap stocks from tomorrow. For the record Easun reyrolle recently recommended at 89 to clients is now at 99 but still good.
Nooresh
09819225396