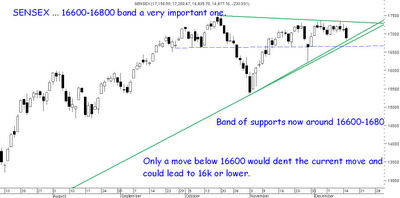 Sensex Technical View :
The last few sessions had a tight range of 16940-17360 which was finally broken today. This was first sign of weakness coming in but the recent trendline comes in the range of 16600-16800.Ideally a confirmation of a short term weakness comes only below 16550. So continue to wait and watch this zone and be stock specific.
On a sustained closing below 16550 traders should look trim cut lot of longs if it does happen else continue to hold with the stoploss of this index level.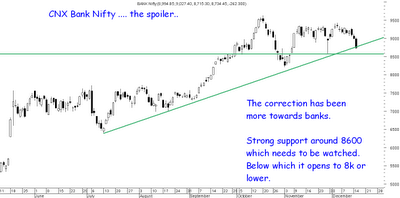 Bank Nifty :
The major part of the dip today was contributed by the Banking segment. Strong support is now placed 8600. One can expect a good pullback from those zones in near term for banking stocks.A break below 8570 would open up all the way to 8k.
So one needs to wait for confirmatory signals.
Stocks to watchout for :
Many stocks have come close to stoplosses or got hit. As a trader keep the discipline as its not the small loss which is a bother but the reason to trade is gone. Also with stuck position one misses chance for a new 20% mover.
Grasim exit if stays below 2385 if still holding rest dint trigger. KFA stopped out,Chambal hold with 56 closing stop.
Reliance Inds seems to be weakening and facing resistance around 1120 zone and at the same time not breaking 1020-1030 range. Buy on lower side and selll on higher side seems the mantra.
SBI has strong support in the range of 2130-2145 which should hold. Buy if dips with 1% stop.
Mumbai
26th /27th December ( only 5 seats left )
2nd/3rd January.
Banglore
January 9-10th . ( Confirm at the earliest as we dont take more then 10 ppl )
Sensex the next Multibagger.... a technical view which is scheduled for 20 Dec 2009.