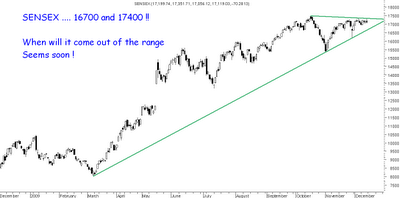 Sensex 16700-17400 range should ideally be broken in next 2 weeks so we might be up for some action in next 2 weeks.
MIDCAPS/SMALL CAPS would continue to roar and we are possibly at the start of the bull run in them,.... Next 3-6 mths it could be broader participation ... For detailed analysis CHECK POST BELOW
Stocks to watchout for :
Bharat Forge above 285 can do 300
D Link , Nirma, Deccan Chronicle and J B chem could see some smart moves.
EL Forge .... needs a fundamental view .. Might be a good auto ancilliary stock....
Technical Analysis Training sessions and tentative schedule. ( if we get more/less entries as per centre the schedule might change so book your seats asap )
Mumbai
26th /27th December ( only 5 seats left )
2nd/3rd January.
Hyderabad / Banglore
Jan 2nd week and Jan 3rd week. ( Confirm at the earliest )
Sensex the next Multibagger.... a technical view which is scheduled for 20 Dec 2009.