YET AGAIN A BEFORE AND AFTER ADVERTISEMENT !!!!!
BEFORE -- OCTOBER 27 Chart posted on the blog -- CLICK TO GO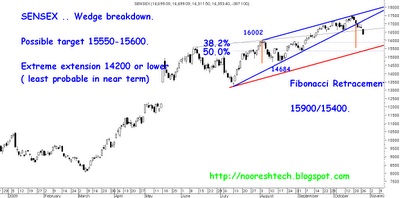 If you see above Sensex has yet again followed the same route as we were looking at. I too get surprised by such pin point accuracy with Technical Analysis. But as a techie ( I never ask Why is the market going the way it is seen on Charts )
As a technical analyst i m never supposed to ask WHY but look for WHAT - ( that constituted the 20 min video it was all about What )
Yet another chart which i have posted is about a possible Inverted Head And Shoulders Pattern being completed with a Neckline re-test. If we do believe this pattern then the implications could be very very bullish in the next few quarters. We would definitely review it in due course of time.
In the short term Sensex should ideally face resistance at 16850 zone. Although some people may also look towards 80% retracement as a level which comes to 17k odd. But for us its simpler we bought at 15.5k and booking now half or more. The view from here on should be extremely stock specific as we may continue to see some stocks over perform in near term.
People who bought at lows will call it a Upmove or a RALLY . People who could not use it and are stuck in Shorts will call it a PULLBACK !!! ... But what does matter in the end is whether u gained out of it or not.
Stocks to watchout for :
Neyvyeli Lignite has given an excellent breakout ( Client call at 145 booked half or more till 160 ) . It seems this stock could be next on the disinvestment or something coming up. Watchout to re-enter on declines to 148-152 with a stop of 143.
Indian Hotels has given a breakout.Maintain a stoploss of 82 and hold for 95-105 in near term.Lloyds Electric has also given a breakout. Can take partial exposure in dips to 54.5-56 stop of 52 tgt 65 +.
Ranbaxy can give a further move if crosses 425. Can target 450 in near term.
Kesar Ent and EID Parry look interesting with a medium term view as technically seem to have broken out in near term. Low volumes stock and difficult to trade but take your own call. Can give 20-25% appreciation over 3-5 mths.
Sun Pharma buy around 1420 with a stop of 1390 tgt 1500-1540 or above 1460.
TCS buy around 640-644 stop of 635 tgt 655-665 in 1-3 sessions. (Disclosure : Client call already given at 640 )
NEW ANNOUNCEMENT :
Wealth Management for Investors.
After increasing the size of our team its finally become possible to come out with a product for investors with exposure to equities in the range of 10 lakhs or more. Investors looking for a conservative way of managing money in a professional manner may get in touch as soon as possible.
For more details call Nooresh 09819225396 ( after market hours )
Thereafter all the execution details would be taken care of by our team.
TECHNICAL ANALYSIS SESSION HYDERABAD /BANGLORE/DELHI
We have a few interested people and if there is a group of 8 or more can schedule a session in these cities. So if you want to learn technical analysis and become independent mail to analyseindia@gmail.com
Nooresh
www.analyseindia.com