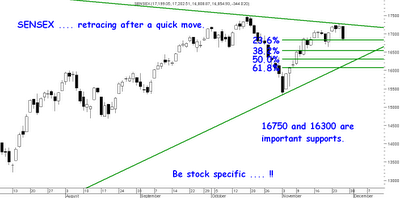 Sensex Technical View :
After moving up very quickly the index seems to be taking a breather. Support levels for the near term are 16750/16300.
The quick upmove from 15300 levels has surprised lot many on the street. After such a rise its needed that index sees a corrective move and consolidates for some time.
Near term if 16750 holds we could see a small bounce but a move to 16300/16600 is still a good probability.
Cant stop writing .... 🙂 ... Back on a break
Best Regards,
Nooresh