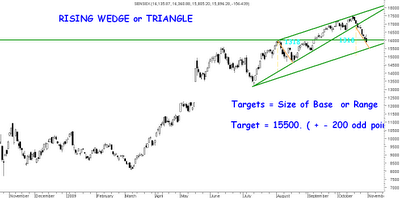 I have just made a new video presentation with technical charts of Sensex from various angles and technical observations. One of the charts which i forgot to include is posted above ( cant speak alone for 20 mins again )
Conclusion :
Sensex has a strong band of support at 15500 which should hold up for the short term. Investors were advised to book profits and generate cash above 16500 and 17200 should now look to redeploy cash slowly below 15900 to 15500 zone. Only a close below 14700 would make us negate the bullish approach.
Upside resistances 16350 ( mentioned yest and Sensex top at 16360 ! ). 16250-16350 and 16600 are resistances for short term moves.
PLEASE CLICK ON THE LINK BELOW OR PASTE IT INTO YOUR BROWSER TO CHECK THE VIDEO PRESENTATION.
For those who cannot bear my boring monotonous voice ( even i havent heard after the quick make ) or for a quick view on charts can definitely download the 10 odd charts from the link below.
Stocks to watchout for :
Bank Of India - Buy on declines from 340-310 with a medium term view and tgt 380-400.
EIH Ltd buy around 122-110 or lower with a medium term target 140/165.
Best Regards,
Nooresh
09819225396