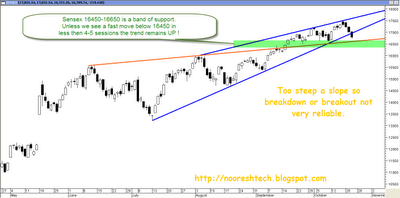 Sensex Technical View :
The up move with steep sloping support and resistance lines was meant to be broken on one side . In a simple manner it will seem that the breakdown has taken place today !! but the trendline slope is too steep to rely on for a decision.
The near term support band is 16450-16650 which if broken on closing basis then only will we see a deeper correction or the index may go into a sideways consolidation for some sessions.
Another thing to note in bull / bear power is no of days to retrace last move. Every time the index touched the support line we did see a sharp reversal. The last upmove took 5-6 sessions from 16600-17500. So if we dont see a break below 16600 in next 3 sessions it would be a weak signal by bears.
In simple words watchout for 16450-16650 band. If it holds up over next week then it would be better avoiding shorts and going stock specific in a sideways consolidation on index.
Stocks to watchout for :
Will keep this section empty today ..... Will be updating the blog back normally from Monday 🙂 .
Best Regards,
Nooresh