Sensex Technical View :
Yes i am back with a detailed post !!!
Well whenever the index is uncomfortable i believe its better to just sit back and slow down on trades/volumes. Thats what has been the case for last few weeks.
1) RISING WEDGE :
The possible comparison of current wedge formation to the one in Jan was first put up in Aug 23 giving a possible target of 16500/17200/17700 which is almost done.
Although the pattern did look similar but no of days above the 16500 levels does make me believe the current wedge pattern may not yield results similar to Jan. As i had put up my reservations on the pattern couple of weeks back i ll take the liberty to cut it of !!! unless proved wrong with a major major crack in next 2 weeks.
Because a major rising wedge leads to a massacre which i dont see in next couple of weeks.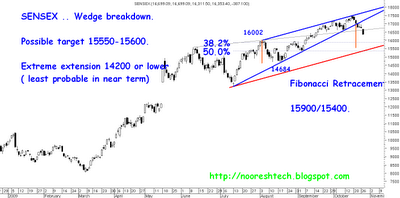 Current Rising triangle /Wedge /Trendline Breakdown:
Simple pattern calculation suggests a possible target of 15550-15600.
Although there might be some interpretation which would give a range of 14200 or lower. But whatever be the targets they should be in very quick time to conform to the pattern
But important thing to note is technical analysis is not a strict science so we need to use a confluence of various observations to come to a conclusion.
If one sees the green band which was a major resistance 15500-16000 roughly. At this point there are many possible pattern implications which some would call inverted head and shoulders/ cup and handle but such confirmation can come if the index comes closer or just goes below the band to re-test the major breakout zone.
Conclusion ;
Short term trend may have turned negative and point to possible targets of 15900 or lower if index closes below 16450 for 2 days more.
On the medium term the major breakout zone/fibonacci retracements/wedge targets points to 15500 area to be very important. Also 15350/14684 are important bottoms in medium term which should ideally hold. Investors with a long term view can look for stock specific investments below 15900 till 15300 stop of 14700. Accumulation should be slow.
Once the testing is done we could expect a resumption of the major uptrend!
Stock specific View :
EIH Ltd :
Long term investors can look to accumulate the stock arnd 120-128 zone with a 1 yr tgt of 165-180. Fundamentally the tug of war between ITC and Analjit singh may lead to better price discovery. Technically good formation with medium term view.
Maruti :
Sustained move below 1450 could target 1300-1380 zones in short term. A move above 1550 gives a tgt of 1650-1700.
So wait for a move below either band for short term with a stoploss of 40 points.
High risk call Buy Punj Lloyd if dips to 178-190 stop of 175 tgt 220.
Reliance Inds
Major supports placed at 1950-1980 and 1880-1900. Buy closer to any range with 20 points stop for bounce back trades.
WEBINAR :
Planning to keep a webinar to discuss Sensex Technical View and explain the journey from 10k to 17k and possibilities ahead.
Ideally would be on Sunday morning 11 am or in coming week. Please mail to analysindia@gmail.com with your contact details also suggesting best time to keep a webinar.
For our premium services www.analyseindia.com
Best Regards,
Nooresh
09819225396