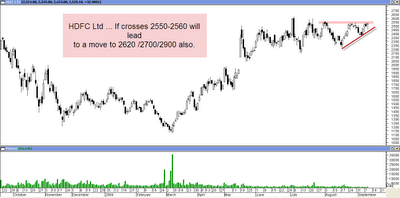 HDFC :
Sensex Technical view;
Nothing much has changed on the index yet .... So view remains same. Sensex 16200-16300 and 16500/17200 on upside remains the level to watchout for.
On downside 15800/15350 are important support levels.
Stocks to watchout for :
HDIL if crossses 332 may lead to a quick move to 350 + . quick traders can keep a watch.
GMR infra has not seen much participation as other stocks watch for a move above 146 to jump in.
No more stock views but more of important things....
STRATEGIC ThOuGhTs :::::::::::::::: Do read every line
Suddenly there is a lot of optimism in the market with traders/retail getting very interested to come back into markets. Although this was the same class of people who were so scared all through 8k-12k !! This makes me more SCARed hehe.
I remember asking people to contribute some investment picks and give views on stocks i was discussing in March-April. But hardly any people replied or were interested to research. Now suddenly everybody has started projecting huge targets !!! also some investment bank is back with a 50k report. Something similar of 40k came in last bull market.
In the month of April i just maade a small technical view with an Elliot touch to it ( i dont like that analysis though but people believe jargon so be IT ). It clearly described what sort of opportunity was lying in front of us. But were the any believers ??? .... Naah i got lot of not so good reviews on that analysis !!
Later when i backed this with a detailed analysis projecting 12900/14500 and a higher stretch to even 15700-16k a few days later i could not find many people being party to it and had their doubts !!! ( core elliot chaps too )
Again around 15500 the warning to increase cash with this detailed post.
So what now .... Well as i have explained that we might be forming a pattern similar to last January which can be a distribution pattern and lead to a decent correction.
Technically we might be on the verge of breakout of the rising wedge. Even if index has to give a good correction it has to breakout above 16200 to create a false move out with lower volumes.
Check crude example
. Further move could be in the range of 16500-17200. ( Sensex in January breakout was 20600 it went to 21200 ) . But this phase gives excellent returns as lots of broader market stocks move up in this last few weeks.
Another possibility is the breakout is genuine and it moves to a target of 17700-18000 in next few months. But in either case we could see a good correction coming from 16500-17200.
So there are two ways to go about it BOOK PROFITS at 16500-17000 levels and just take a break for some time watching more trading less if you are a passive investor and not able to take quick decisions.
Else active participants can keep a trailing stoploss on total PORTFOLIO ( say it drops by 5-8% in a day get to high cash ) or be ready to make a clean slate in the range near to 17k. As i always say
Its not over till its Over ... So follow the trend but be disciplined
All in all an exciting period of stock specific moves awaits us but the point is one needs to be CAUTIOUS as well because RESEARCH and DECiSIONS are real BAD in good sentiments.
Good research is only done in BEAR phases or weak sentiments ..... Like we posted in March -April !!!!
Pass the word for the following seminar to your friends in Ahmedabad.... We may soon be coming to other cities if possible.
'SENSEX – the next MULTIBAGGER'
…a technical view
followed by Lunch
Venue: Registration:
AMA - Ahmedabad Management Association Asif : 09833666151
ATIRA Campus, Vastrapur, Ahmedabad -15. Nooresh: 09819225396
Date: Sunday, September 13, 2009 analyseindia@gmail.com
Time: 10:30 a.m. Fees: Rs.500 only For more details call Asif : 0983366151 Nooresh 09819225396 ( after mkt hours )
Best Regards,
Nooresh