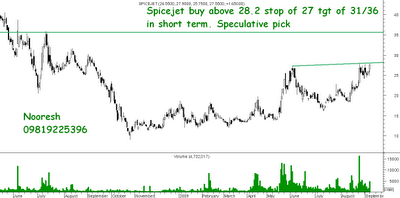 SENSEX TECHNICAL VIEW:
In the last update had mentioned that the gap level of 15350 should be a support to watchout for.
Sensex made a low of 15350 odd. This now clearly sets a level for the next major trend change for now.
Also at 14700 some time back had mentioned that we may be forming a pattern similar to the Sept-Jan 08 and in that case we still have an upleg to 16k plus as shown in the chart discussed then.
Continue to maintain the view and ideally we could expect this move to either fade away after crossing 16300 which is the upper trendline of the wedge which would resist in short term.
Similar pattern in Jan 08 had a level of 20600 which was breached by 600 points. So even if there is a decent amount of correction coming in we can expect 16500-17200 band on upside to be a major resistance !!!
Else we can expect the current move to be ITS DIFFERENT THIS TIME and a genuine breakout heading to 17700 levels which was a high of May 2008.
So in either case its 16500-17200 which seems a possible level in next few weeks but in this band i would be CAUTIOUS then optimistic...
Continue to follow the trend as i would still expect MIDCAP SMALLCAP INDICES to outperform. Mentioning it from August 1st week.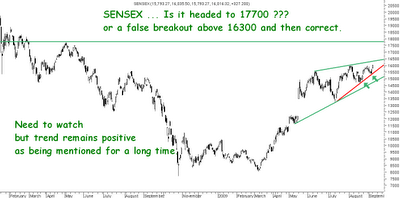 Stocks to watchout for :
Easun ckt , Macmillan 20% hold on for medium term tgt 90-100. Essel Propack book part at 37. Andor hold.
Midcaps to watchout for :
Moser Baer above 95
Jai Corp for highly speculative traders.
Hanung Toys , Zicom for day traders with ckt view.
Deccan Gold , Epic Energy, Asian Electronics for ckt pickers.... High risk high returns.
FUNDAMENTAL CHECKS NEEDED -- Look interesting for long term on first look :
REI AGRO , ION EXCHANGE , MSP Steel and Power, Sathvahana Ispat
SENSEX ...... the BIG TRAPS
An interesting read ..............Read and pass it
'SENSEX – the next MULTIBAGGER'
…a technical view
followed by Lunch
Venue: Registration:
AMA - Ahmedabad Management Association Asif : 09833666151
ATIRA Campus, Vastrapur, Ahmedabad -15. Nooresh: 09819225396
Date: Sunday, September 13, 2009 analyseindia@gmail.com
Time: 10:30 a.m. Fees: Rs.500 only
Limited Seats, registrations on first come, first served basis.
For more details call Asif : 0983366151
Nooresh 09819225396 ( after mkt hours )