Sensex Technical View :
Sensex has been struggling around the 17k mark and technically this is a difficult resistance band which makes it a little dicy as the risk-reward is shifting from further fresh longs.
Ranges of importance 16900-17200 and 17700. On down side 16400 is an important level for near term.
The dilemma now is the broader market looks very interesting compared to the index heavies. So it seem the solution is Short Nifty futures/or buy 4800/4900 puts as a hedge to short term longs in Midcap/Large cap stocks.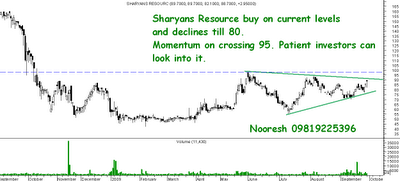 Sharyans : Interesting bet on fundas also for long term investors.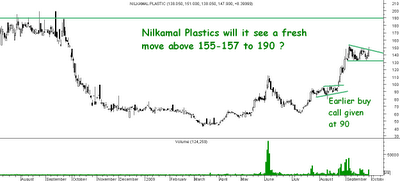 Nilkamal Plastics : Earlier recommended to clients from 75 to 90 and then 90 to 150. Possibly a fresh move on sustaining 157.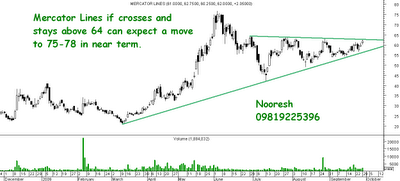 Mercator Lines : Wait for confirmatory moves with volumes.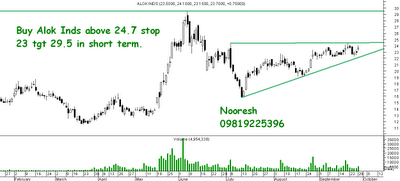 Alok Inds : Short term traders can keep track for coming weeks.
Stocks to watchout for :
Petronet LNG if crosses 78.5 expect a move to 82-88 in extreme short term.
GAIL is firming up on charts if continues to close above 365-370 expect a quick move above 400.
Pure fundamental Investors can look towards Indian Metals and ferro / Saraswati Industrial Syndicate /Revathi Equipments /Karur Vysya Bank for long term safe returns over 1 yr.
Small Cap risky ideas with 1 month view for a tgt of 30% stop 8% frm cmp :
Hanung Toys
D S Kulkarni
Mudra Lifestyle
SCHEDULE FOR TECHNICAL ANALYSIS SESSIONS :
AHMEDABAD OCTOBER 3rd -4th ( 1-2 seats left confirm at the earliest )
MUMBAI OCTOBER 10th-11th --- ( mail to analyseindia@gmail.com or call Nooresh 09819225396)
Further sessions planned for other cities ( Banglore , Hyderabad,Chennai, Delhi ) after Diwali starting October last week to December. If you want a session for a group conducted in your city call Nooresh 09819225396 for more details.
For more of our services check : www.analyseindia.com
Any queries : Nooresh 09819225396 ( after market hours only )
e-mail id : analyseindia@gmail.com
yahoo : meraninooresh@yahoo.com ( after mkt hours )
Best Regards,
Nooresh
09819225396