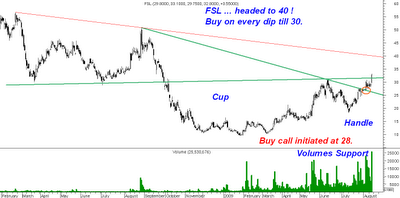 Sensex Technical View :
Sensex has given a sharp pullback from support levels. The trend remains positive. 15600 a short term resistance closing above which for 2-3 sessions could give a sharper move.
MIDCAP AND SMALL CAP !!!
We expect small caps and Midcaps to be in the limelight for next few weeks. Many stocks may move up 20-40% in quick time. So do your own research ... Cannot cover all the stocks recommended to our advisory services but some would be discussed.
Some of the stocks which were not discussed on the blog but only in our advisory service
Atlas Cycles 125 to 155 and still more to come
Hind Oil 200 to 240 and more to come
Rico Auto 18 to 30
Standard Inds 19 to 27
Uttam Steel 44 to 88
Satyam 80 to 110
Nilkamal 74 to 90 .... Re-entry for more
Elecon Engg 74 to 90.
FSL from 28 to 32 .... Start of a fresh move
I might have missed some here as this is only last month and quite some of them might have been discussed on the blog as well as for clients.
Stocks to watchout for :
Day traders pick --- Very high risk people
BRIGADE
PBA INFRA
Gallant Metal
HIND ZINC
Stock could give a sharp move if sustains above 755
LLOYDS ELECTRIC AND ENGINEERING
Long term investors can look to accumulate this stock on sharp declines or on sustaining 46-47 for momentum in short term. Attractive book value and business.
RUMOURs and Badhi Baatein ! TAKE UR OWN CALL ... NEW SECTION
PSL LTd discussed before looks good for a move to 160-180 in short term.
Ganesh Housing to touch 140-150.
TV 18 the stock could move up to 125. Buy with a stop of 105
Camson Bio may again get into a circuit frenzy
VBC FERRO mentioned last time has started its move and is set to cross 450 . VBC inds a group co also looks interesting
Entegra Limited being spoken of as another power story ....
WS inds , KRBL, Lakshmi Over,RDB Inds seeing punter interest.
Busy with personal work as well as with advisory/training and business plans so blog updated in the morning before market hours. May remain this way for next few weeks with some days of no updation 🙂
For our services : www.analyseindia.com
TECHNICAL ANALYSIS SESSION MUMBAI
Call 09819225396 Nooresh to confirm your seat/queries / details.
SEMINAR planned for Ahmedabad - people interested plz mail to analyseindia@gmail.com
TECHNICAL ANALYSIS SESSION Planned for CHENNAI or BANGLORE in the month of September.mail to analyseindia@gmail.com
Best Regards,
Nooresh 09819225396