Sensex Technical View ;
The short term strong support now is based at 15275-15350 range which was the gap made some days back.
On the upside 16050-16250 remains a strong resistance.
Last 3 weeks its all been the broader market so will look into the index only if we get out of the above levels.
Stocks to watchout for :
All the stocks we have recommended continued to outperform the indices and with solid moves.
Client calls: Dalmia Cement , GMDC , GIPCL, Aptech , City Union , Prakash Inds , Standard Inds, Unitech and the list is long which have given 10-40% returns in short term.
VBC ferro , Godawari power and many other stocks recommended a week back rocking !!!
Unitech does 1st tgt of 105 !! , GMDC rocks, Binani Cements breakout and waiting , OCL india slowly inching up , Uttam Steel in new territory , Meghmani stop 15.8 , PTC Hold , Hikal , ITD cements etc keep booking
Few charts attached below :
Andor Fontech seeing good buying by informed investors and fundamentally sound company. Long term investors can take small exposure. Only for patient people.
Another possible Cup and Handle Breakout. Speculative built up seen in short term. Slightly higher risk. Traders can keep a watch.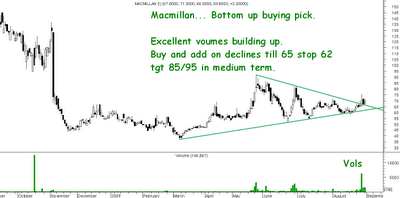 Macmillan:
One of the laggards in the education space but seeing encouraging volumes.
Downside is limited so investors with medium term view can take exposure. Will see momentum on crossing 72-75.
TECHNICAL ANALYSIS SESSION
We have few interested people in
Hyderabad/Banglore.
So if people are interested mail to analyseindia@gmail.com so we can schedule a session in your city. For more details call Nooresh 09819225396.
https://www.analyseindia.com/tae.php
SENSEX the next Multibagger ....a technical view - Analyse India Seminar
Tentatively scheduled - 13 September Ahmedabad. Mail to analyseindia@gmail.com for details/confirmation.
Best Regards,
Nooresh
09819225396
Best Regards,
Nooresh