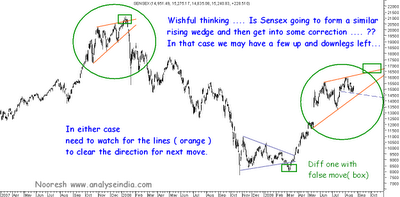 Sensex Rising Wedge :
The above chart is pure wishful thinking or trying to predict a possibility. Though i believe the best way to trade now is react then to predict till then stay with the trend which still remains up.
As per the above observation Sensex might be forming a fractal pattern similar to what happened in Sept-Jan 07-08. This may interest all the people who are waiting for a correction. Although if index has to follow this path then there might be a few legs still left. Sensex may break the upper trendline giving a false move.
False move - Yes its been an observation that many major trends are set only after a false breakout ! -- We did see it in Jan 08 where index corrected heavily. Similarly we saw a slightly different pattern in March 09 where we saw a super upmove after a false breakdown.
This observation is premature and naive but we will continue to ponder on it in coming weeks/months.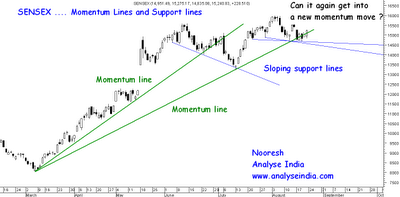 Sensex Technical View :
In last few sessions had shown the support of 14500-14700 zone to be important as shown by the blue supporting line and bang on Sensex reversed from the same zone by just going a little below 14700.
CLICK TO SEE CHART
So for now the blue line shown in chart would be our reference point for any intermediate trend change.
On the upside index now needs to break 15550 levels in quick time to show strength of the upmove. Sustaining above the same would create a good possibility that the Sensex may surpass 16k by a better margin though with negative divergences.
For the short term 15550 is an important level to watch.
Stocks to watchout for :
ION exchange does 125 tgt. Easun good for medium term. GHCL breakout keep stop of 39.8. Hikal, Bombay Burmah, ITD cementation good for investors. ORG informatics for penny pickers.
VBC ferro discussed before at 350 is notching ckts book part and hold rest for 450.
Wockhardt on sustaining 165-167 can tgt 180 levels in short term. Risky trade.Emco transformers if stays above 90-92 zone can touch 105-115 in short term- investors can hold on.
IFCI looks good if able to cross 54 can give a quick move to 60 +.
GMDC
Watch for sustained closing above 95. If stays above for a few sessions the stock can tgt 104/118 in short term. stop of 90
Jkumar Infra
liquidity in the stock is low but seems a good breakout. Buy on declines to 122-125 stop of 118 tgt 140. Do your own research.
Day picks:
Buy Bharti Airtel above 416 stop of 408 tgt 425-430
Welspun Gujrat buy above 220 stop of 216 tgt 228-232
Polaris buy above 139 stop of 135 tgt 148.
Small cap ckt hitters --- For lion hearted risky traders
ORG informatics.
Jayswal neco
Four Software.
Do your own research when trading in small caps.
TECHNICAL ANALYSIS SESSION

MUMBAI
AUGUST 29-30
( No requirement of any technical knowledge, learn simple practical technical analysis which works )
Its better to pay and learn something which stays for a lifetime. But many prefer to lose in their speculative trades then to learn 🙂

Call 09819225396

Nooresh to confirm your seat/queries / details.

BEst regards,
Nooresh 09819225396 ( after market hours )