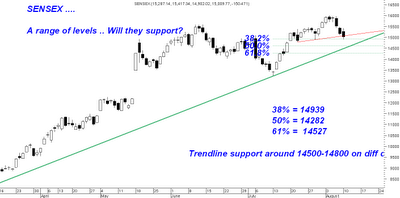 SENSEX TECHNICAL VIEW:
Lets have a lot of technical observations now before we can take any conclusions or strategies.
-- > The move to the recent top of 16k was with lot of divergences and had mentioned about the zone being a stiff resistance. So now the index has taken a step back and corrected to 14900 which is a neat 1000-1200 points from the top.
-- > Fibonacci levels for the current retracement are 14939/14527/1282 ( lil typo error on chart )
-- > Trendline supports come around the zone of 14500-14800. Also the shorter term trendline around 15050 was breached today.
-- > The recent bottoms are 14888/14786. A simpler technical tool is a lower top and lower bottom formation to begin will confirm a trend change. ( simple 1-2-3 had explained in my webinar ---
CLICK HERE to check the recording
). So the trend remains positive!!
-- > The significant trend change for medium term would come only below 14200 ( 61% retracement ) on a weekly closing basis. On a breach of this we would look for a deeper retracement of the entire leg from 8k -16k !
Conclusions :
The index has a range of supports placed between 14200-14900. The strong support for now is 14750 which if broken would open up to the 50/61% retracement.
Although the supports are placed at varied levels in this range but difficult to point where the index could see some recovery from.
After being stopped out in many trades on Thursday itself traders should now wait and watch for a few sessions. Stock specific observations would help as statistics point a different picture.
STATISTICAL OBSERVATIONS :
This becomes important at times.
SENSEX and NIFTY are nothing but a weighted index from a list of stocks. So lets have a look at them.
Major losers have been Hero Honda, Mahindra& Mahindra , Maruti , ACC and other stocks which had moved up very sharply in the near term beyond new highs.
Heavies like ONGC,RIL and IT stocks have been staying firm. SBI and other PSU banks havent been largely impacted.
The conclusion is the index dip right now could mainly be due to profit booking in over run stocks. So only a further correction in heavies can give us more indication of a continuation of downmoves. Else even a small recovery in auto,cements could give sideways to positive move to the index.
Simply put Wait and Watch on the index..... Stock specific view above.
TECHNICAL ANALYSIS SESSION MUMBAI
Call 09819225396 Nooresh to confirm your seat/queries / details.
SEMINAR planned for Ahmedabad - people interested plz mail to analyseindia@gmail.com
ECHNICAL ANALYSIS SESSION Planned for CHENNAI or BANGLORE in the month of September.mail to analyseindia@gmail.com
Best Regards,
Nooresh 09819225396