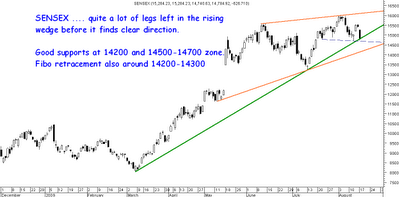 Sensex Technical View :
A big drop out of the blue ... This is what makes market so difficult place to be !..
Technically the recent most trendline comes very close to 14700 area which is also the bottom seen last week.Also the orange line from the lows before election is another strong support.
Fibonacci retracement of 61.8% comes to around 14250-14300. So index is back to the support zones although the steepness of todays trade makes it a lil uneasy but till this market doesnt give a weekly close below 14200 the uptrend remains in place though caution be used always.
Rising Wedge :
On the pattern front it does seem like a rising wedge may be formed in weeks to come. This seems to be similar to the one in oct-Jan last to last year. Although such a pattern takes a long time to develop with 3 bottoms and tops on either side before an eventual move finding the direction. Will see charts of oct-jan , crude and other indices on this pattern in the weekend.
Or else the index can get into a huge consolidation between 13k-16k. So we still have to wait for next few months before the next major move unfolds. Till then continue to trade the range with broader market.
As always i would strictly mention to avoid leverage as volatility may increase. Keep reduced volumes to conserve profits made in previous good periods. Focus on the broader market as thats where the action could shift.
Stocks to watchout for :
IOC and ONGC still good for short term till they stay above 560 and 1140.
IFCI could not cross 54.GSPL still on radar.
No fresh calls for now as any of the trades would now be initiated in the day....
TECHNICAL ANALYSIS SESSION MUMBAI

AUGUST 29-30

Call 09819225396 Nooresh to confirm your seat/queries / details.
BEst regards,
Nooresh 09819225396 ( after market hours )