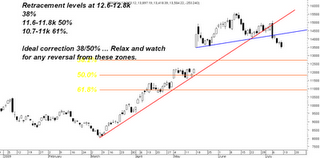 Sensex Technical View :
The biggest question people ask me now where is the Sensex going. A difficult answer but lets have a look what technicals point.
Technically gap support at 13500 is almost violated.
Next fibo retracements at 12700/11800/10900 ( wud be lil diff if taken frm 7.7k) Ideally after such a big move 38/50% is a retracement level around which index finds good support.
An extended move could well go to 61% also.
FIBONACCI RETRACEMENTS :
Just a few lines from that update.
""Sensex is currently in the B wave which is not a BULL RUN as dubbed by some Elliot wave chaps ( will speak on them in next post ). This move should touch 38/50% levels of the total fall from 21k. Corresponding levels are 12900/14500. This move in the extreme case also should not cross 15700-16k ( 61% level ). ""
Next important update was to
INCREASE CASH IN JUNE 2nd WEEK
about generating cash and after exuberance we may correct 23.6/38/50% of the entire upmove from 8k-16k.
"" As of now the simplest strategy for us is to take some profits of the table and generate a good amount of cash in the portfolio which can be re - deployed at dips with a long term horizon. The exuberance ( distribution in cases ) may stay for quite some in the markets but as an investor/trader one needs to be disciplined !! ""
Now the targets for the above are achieved and next we should see the current upmove being corrected by 38/50% and also a stretch to 61% . Corresponding levels are 12700/11800 and a stretch to 10900 approximately.
The index if has strength then 38% level of 12700 holding up would be a very positive sign. Although an ideal correction points to a retracement to 11800. There is also a possibility to test 10700-10900 which i am not tilted towards ( not as comfortable as an extension to 16k ).
On the fibonacci and projection of time analysis we had approximated a bottom around Sept/Oct being the weakest and a re-test or new low around Jan-March which has been SPOT ON.
Similarly August/September is the 21st month from January. So somewhere in this 3 months we may expect yet another important top/bottom. In that case it could be yet another time for investors to pull up their socks and start researching for stock ideas.
YET AGAIN the pyramid strategy we deployed around March and was a nice simpler disciplined plan though not fully executed at lowest levels but gave us a good entry followed by adding up at 10k.
So this time around one can start at 13k-13.5k/12.7k/11.8k and keeping a possibility of 10k also and start making a pyramid strategy to invest as per personal customization on resource allocation. Mind you this is for patient investors and it will take time to be executed and then become profitable but in a disciplined manner.
SUNDAY THOUGHTS:
Finally an addition to a very irregular section which i generally dont get time to write.
Answering lot of investor queries is one of the most difficult thing to do for us ! The moment we start emphasizing on generating CASH the sentiment is more on buying heavily. Well this has to be the case as the normal investor builds up a portfolio only after waiting for months for taking the plunge into equities ! ....The so called trader now becomes an investor who is no more wanting for RETURNS but Return of CAPITAL.
The last 3 weeks the most used word in my conversations with investors/traders has been WAIT. But does the investor wait ... ( very difficult ). But i will stick to that ... Relax , wait and watch go slow in pyramid manner. ( m i sic of the words no i m not i love them 🙂
Although this time around at 15k i doubt there were enough late investors, but one needs to be at least a lil ahead of the curve and time your entries ........TECHNICAL ANALYSIS is an edge here.
Markets may remain confusing, irrational or as many adjectives one can point to but only way to keep it simple is a DISCIPLINED strategy.
Did u buy at 10k ?? Did u pull some money out at 15k ??? If you did so the next 2-3 months would be much more simpler and should give you enough time to strategize for long term.
Finally -------------- Go Slow , Pyramid your position, Continue to keep a good amount of cash, be ready with a back up buffer for extreme conditions.
TECHNICAL ANALYSIS SESSION MUMBAI
Mail to analyseindia@gmail.com or call Nooresh 09819225396 for confirmations/queries. Discount of 15% appplicable this month as with all schemes.
INTRODUCTORY DISCOUNT OF 15 % ON ALL OUR SERVICES ( valid for renewals and upgradations too) TILL 31st JULY.
Check website www.analyseindia.com and mail to analyseindia@gmail.com /analyseindia@analyseindia.com for payment details.
REPORT FOR JUNE posted
Please go through the report and let us know if any mistakes ( Report made by Ankit one of our old readers and part of our team ) .
REGARDS ,
Nooresh 09819225396
TEAM ANALYSE INDIA