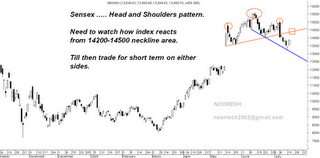 Sensex Technical View:
As i had mentioned in the very first update about the Head and Shoulders pattern had mentioned there always remain a possibility of testing the neckline before going further in the crack.
It seems index is going towards a similar move now. Generally many late shorters are bound to get trapped in this testing and thats the reason we have been waiting and watching then to be pre-empting the breakdown.
Now it needs to be seen how Sensex reacts around 14200-14500. Speculative traders can also go short in that range with small stops. A move above 14900-15100 would only negate the Head and Shoulders pattern.
On the candles we have seen a classic doji /morning star on daily charts as well as the short term trendline for a down channel holding the lows. This does point to a possible test of neckline before the next move starts.
Strategy should be to trade for extrem
e short term which can be either on Long side or short side with strict stoplosses.
Stocks to watchout for :
All the pullback stocks rocked though a gap up may not have given opportunity to catch all 4. Day trading does require a big heart.
Infosys
The stock has many resistances around 1835-1855 band in short term with lot of previous resistances in the same range. Traders can look for intra-reactions from that range and short with a small 10-20 point stop.
TCS
The stock has crossed near term resistances at 405. The stock can inch up to 420/435 in short term.
Very huge volumes and speculative interest seen in Webel Solar. Speculative tgt 220-260 in short term. Only for high risk traders.
JUST A LIL OBSERVATION :
As i have been mentioning in my previous
how people kept asking me about lot of buying calls before and around budget. One of the other speculation majority were taking was buying some rail impacted budget stocks .... Kalindee , Texmaco , Titagarh wagons , Kernex . The stocks saw lot of built up much before budget and was dumped even after good things coming ............ Why SO - Well markets anticipate and discount much before and is supreme.... End result many dumb speculators trapped !!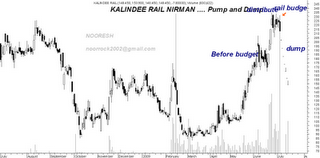 Check the chart above of Kalindee Rail Nirman. Similar pattern in others.
TECHNICAL ANALYSIS SESSION MUMBAI
Mail to analyseindia@gmail.com or call Nooresh 09819225396 for confirmations/queries. Discount of 15% appplicable this month as with all schemes.
PLANNING TO CONDUCT SESSIONS IN DELHI /BANGLORE/CHENNAI in next 3-4 months. ALL THE INTERESTED PEOPLE MAIL TO analyseindia@gmail.com so that WE CAN SCHEDULE ACCORDINGLY.