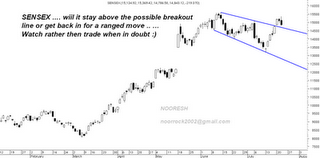 Sensex Technical View :
Finally the index did see some selling pressure and profit booking coming in. The index made a high of 15369 and is now back close to the breakout line of a channel or bullish flag. We did see a failure of the possible Head and Shoulders and now a move above the trend line is not materializing into a big move. Such range bound moves would continue for quite some time and its better that the index consolidates.
So a simple strategy now would be to reduce volumes and watchout for some time before index decides for the next major move.
Continue to maintain the stance that it would be stock specific from here on ..............Midcaps should be the focus now.
Stocks to watchout for :
Punj lloyd tgts done still strong in weak mkts , Glenmark hold, Unitech stop of 78 , Compact Disc strong move to hit almost 70 hold.
So even on a bad day we had 2 strong stocks !! ... Allthough on client trades we did book some stocks in morning and later some on trailing stoplosses.
If you do want to see a sheet of our trading calls for last 8-10 sessions to understand our services mail to analyseindia@gmail.com with a request for the same.
NTPC
The stock has been ranging from 200-210 in the past few days. Wait for a move above 210-211 for a quick trade to 220 + .
PFC
The stock has been ranging from 214-230. Can give small trading opportunity for a bounce trade with stop of 213 or sell below it for 10 bucks.
Welspun Gujarat
More then usual volumes seen today with a price rise. 188 is a support on downside whereas a breakout above 211 can take it to 240 also !! . Quick traders can keep a watch.
ANNOUNCEMENT :
We are planning to conduct a 4 hour seminar and discussion forum covering topics - Introduction to Technical Analysis , Basics of TA and a special presentation on Sensex- the next multibagger.
The event is tentatively scheduled for Mumbai in 2nd /3rd week of August. Those who are interested please mail analyseindia@gmail.com.
Best Regards,
Nooresh
09819225396 ( after market hours )