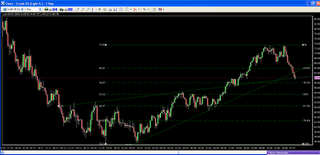 Just a quick observation on crude --- Support around 56-58 zone.
Sensex Technical View :
50 dema /23.6% retracement / gap support all come in the range of 13500-13700. So it clearly becomes important that index needs to hold on to these levels in near term and if it doesnt we may very well head to 12700/12300/11600 also.
Head and Shoulders pattern also formed suggests a possibility of neckline being re-tested around 14k-14.3k also. But the pattern is too evident so chances of failing or being delayed is also possible. So just wait and watch be stock specific as i again expect action would be out of the index.
Till we dont see 13.5k or 14.3k we would just watch the index.
Stocks to watchout for :
GTL Infra and Elecon engg ( up 12% rightaway) are investment picks. Do your own research.
ITC , Essar Oil , Century Textiles charts posted below.
FORTIS HEALTHCARE :
Long term investors can again look to take exposure in the stock at 75 levels if comes with a view of 1-2 years. Earlier had bought at 75 and booked at 100. Stock has since corrected and can be a good re-entry point. Only meant for patient investors.
TECHNICAL ANALYSIS SESSION MUMBAI
Mail to analyseindia@gmail.com or call Nooresh 09819225396 for confirmations/queries. Discount of 15% appplicable this month as with all schemes.
ANNOUNCING THE LAUNCH OF OUR NEW WEBSITE -----------www.analyseindia.com
New services /schemes as per public demand. New courses being designed on technicals,basics of finance for traders/investors.
INTRODUCTORY DISCOUNT OF 15 % ON ALL OUR SERVICES ( valid for renewals and upgradations too) TILL 31st JULY.
Check website and mail to analyseindia@gmail.com /analyseindia@analyseindia.com
REGARDS ,
TEAM ANALYSE INDIA